Work Scheduled for East Beach Road at Lake Crescent Starting July 10

East Beach Road will be reduced to one-lane of traffic through work zones and delays of up to 15 minutes should be expected. Work will occur weekdays between 7:00 a.m. and 6:00 p.m. through mid-July, weather permitting.
Madison Falls Trail Closed for Repairs Beginning July 7

The one-tenth mile Madison Falls Trail and trailhead parking lot located in Elwha Valley will close to public entry for three weeks beginning on Monday, July 7 while crews make improvements and repairs.
Upper Lena Lake Trail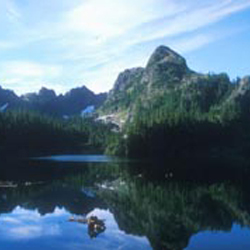 NPS
Notices
Description
Trail Conditions
Camping Information
Special Concerns
Safety

Camp Area Map
Notices: Permits are limited May 1 through Sept. 30. Reservations recommended.
Description:
Ecosystem type: Montane forest, subalpine lake basin
Trail tread types: Maintained
General elevation trend: Moderate to steep
River crossings: Lena Creek
Unique features: Mountain views, wildflowers
Level of difficulty: Moderate to strenuous
Distance: 7.3 miles
Elevation change: 700 ft. to 4550 ft.
Best Season: Mid July through September
Camping:
Permits/Reservations: Permits are limited between May 1 through September 30. Reservations recommended.
Food Storage Method: Community bear wires are located at Upper Lena Lake.
Campsites: Upper Lena Lake
Toilet Facilities: Toilets are located at Upper Lena Lake.
Water Source: Lena Creek and Upper Lena Lake - Always boil, filter or chemically treat your drinking water to prevent getting Giardia.
Stock: Prohibited
Special Concerns:
Leave No Trace: Leave No Trace of your stay to protect vegetation and prevent further camping regulations. Camp in designated sites.
Campfires: To protect sensitive vegetation, campfires are not allowed at Upper Lena Lake. Respect Wildlife: To protect bears and other wildlife, all food, garbage and scented items must be secured from all wildlife 24 hours a day.
Safety:
Always carry the 10 Essentials: map, compass, flashlight, knife, matches, nylon cord, extra food and water, and raingear with warm clothes.
Map & compass navigation skills may be necessary in places along this trail. Snow may cover higher reaches of this trail in any season, so know how to navigate without a trail for guidance.
Ice ax and self-arrest skills are necessary to hike this trail when snow covered.
Let someone know where and when you are taking your hike. Make emergency plans for them to follow if you do not return.
Watch the weather before and during your hike. Storms move quickly. Whiteouts are sudden. Always check the weather forecast prior to your hike.
Did You Know?
...that one criterion for the determination of a temperate rain forest is that the amount of moss and other epiphytes exceeds the weight of all the foliage (leaves and needles) per acre by at least two times.