Olympic Hot Springs Road Closed

The Elwha Valley's Olympic Hot Springs Road is closed to public entry beyond the Altair Campground during removal of the Glines Canyon Dam. Olympic Hot Springs is not accessible from the Elwha.
Elwha River Closures

Boating is prohibited on the Elwha River between Upper Lake Mills Trail to Altair Campground.
Changes to Visitor Services Due to Sequestration

Due to mandatory, across the board budget cuts, some visitor services at Olympic National Park have changed. See the Plan Your Visit section for more information.
Shi Shi Beach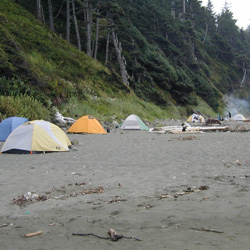 Sarah Bouska, NPS
Notices
Description
Trail Conditions
Camping
Special Concerns
Safety
Map
Photos
Notices:
All food, garbage and scented items must be stored bear canisters, on the coast.

Pets, use of weapons, and wheeled devices are prohibited

on coastal beaches and trails.

A Makah Recreation Pass must be purchased in Neah Bay prior to arriving at any trailheads on the

Makah Indian Reservation

.

Overnight parking for Shi Shi is permitted only at designated private parking lots.

Utilize existing fire rings or build campfires on the beach to prevent damage to tree roots. Use driftwood only.

Expect large crowds at Shi Shi Beach during summer months. There has been as many as 50 to 250 campers along Shi Shi Beach on busy weekends.
Description:
Ecosystem type: Coastal Forest and Ocean Beach
Trail tread types: Well-maintained boardwalk, muddy road bed, sandy beach
General elevation trend: Flat
River crossings: Petroleum Creek may be difficult to cross in winter during heavy rains.
Unique features: Wilderness coast, bald eagle viewing, tidepools.
Level of difficulty: Easy
Distance: 2.0 to 4.5 miles
Elevation change: 200 ft. to sea level
Best Season: April through October
Camping
Permits/Reservations: Obtain permits in person at the Wilderness Information Center (WIC) in Port Angeles or at the Forks Recreation and Information Center. Call for hours. Before your trip, contact the WIC at 360-565-3100. If you are hiking south of Shi Shi beach & camping, reservations are required May 1 through Sept. 30.
Food Storage Method: Bear canisters are required to store all food, garbage and scented items including flavored beverages. Hanging food is prohibited because raccoons climb trees, jump onto food bags and tear them open.
Location and sites: Sites are scattered along the beach and in the forest.
Toilet Facilities: Three pit toilets are available at Shi Shi Beach: one at the south end of the campsites in the woods at the park boundary; one behind the wooded campsites on south side of Petroleum Creek; and one near Willoughby Creek. Always use toilets!
Water Sources: Petroleum Creek and Willoughby Creek. Most coastal water sources have a tea-stained appearance. The light tan color originates from tannin leached from leaves. Cryptosporidium and giardia exist in coastal streams and rivers; therefore, always filter or boil water. Iodine is ineffective against cryptosporidium.
Stock: Prohibited on all park beaches and beach trails.
Special Concerns:
Leave No Trace of your stay to protect vegetation and prevent further camping restrictions from being imposed. Camp in preexisting sites or on sand to prevent damage to vegetation. Do not build driftwood furniture; leave the wilderness wild.
Campfires: At Shi Shi Beach, protect coastal forest by burning driftwood only. Utilize existing fire rings or build fires on the beach to protect tree roots in forested sites.
Wildlife Precautions: Due to raccoons' ingenuity in obtaining human food, all food, garbage and scented items must be secured bear canisters 24 hours a day. Bear canisters can be rented from the WIC in Port Angeles.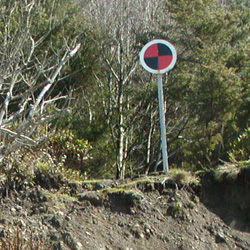 NPS
Safety:
Know the tides.

Carry a map and tide chart to plan your route.

Be prepared to hike over headland trails during high tides. Some headlands cannot be rounded during the lowest of tides.

When camping on the beach, be sure to camp above the high tide waterline.
Did You Know?

Although related to other marmots and groundhogs of North America, the Olympic marmot is unique.  An endemic species, it is found only in the Olympic Mountains.  Visitors to the high country of Olympic National Park may be lucky enough to encounter a marmot sunning itself near its burrow.