Roadway Ditch Maintenance Along Park Roads: Motorists May Encounter Delays

Motorists may encounter delays along Sol Duc Road (9/30 - 10/1), Whiskey Bend Road (10/2), Deer Park Road (10/7-10/8), and Hurricane Ridge Road (10/9 - 10/10) between Sept. 30 and Oct. 1 due to routine maintenance to clean roadway drainage ditches.
Spruce Railroad Trail Closed from Lyre River Trailhead to Devil's Punchbowl

The trail will be closed for improvements from the Lyre River TH to approximately 0.25 miles east of Devil's Punchbowl. Work is expected to be completed by the end of October. The remainder of the trail will be accessible from the Camp David Jr. Road TH. More »
Safety Advisory: Mountain Goats

NPS has received reports of aggressive mountain goats near trails at Hurricane Ridge, Royal Basin, Seven Lakes Basin, Lake of the Angeles, & Grand Pass. Visitors are required to maintain a distance of at least 50 yards from all wildlife. More »
Climbing Mount Olympus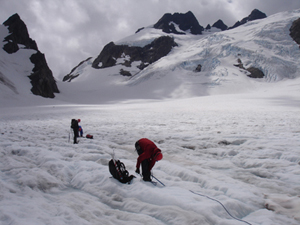 NPS Ian Stacy
Description
Trail Conditions
Camping
Special Concerns
Safety
Wilderness Map
Guidebook
General Location: 20 miles southwest of Forks, WA.
Notices
Permits are limited for Elk Lake and Glacier Meadows. Also, Groups of more than 6 are required to camp in designated "Group Camps". Stock parties are required to camp in designated "Stock Sites".

Reservations

are recommended for these sites.

Contact the WIC for information about trailhead shuttles. (360) 565-3100
Description
Ecosystem type: Glacier, Alpine
Trail tread types: none
General elevation trend: flat to steep
Level of difficulty: Moderate to difficult
Distance: 4-6 miles from Glacier Meadows to Summit.
Elevation change: 4,400 ft. to 7,980 ft.
Best Season: Late June through mid-August
Camping
Permits/Reservations: Wilderness Camping Permits are required for all overnight trips. Obtain permits in person at the WIC in Port Angeles or at the Hoh Visitor Center. Reservations should be made for parties of 7-12 persons and for groups with stock animals. Reservations can also be made for Elk Lake, Glacier Meadows, Hoh Lake and the 7 Lakes Basin Area. All other sites are first come, first served.
Food Storage Method: Bear canisters are required for camping beyond Glacier Meadows on Mt. Olympus. Community bear wires are available at Tom Creek, Happy Four, 5-mile Island, Olympus Guard Station, Lewis Meadow, Elk Lake and Glacier Meadows.
Location and sites: Camp areas are located at Caltech Rocks and Snow Dome. No camping between Glacier Meadows and the Blue Glacier. See also Hoh River Trail for lower camps.
Toilet Facilities: Pit toilets at 5-mile Island, Olympus Guard Station, Lewis Meadow, Elk Lake, Glacier Meadows. Blue bags required on Mt. Olympus; use the blue bag receptacle on the lateral moraine to deposit used blue bags. Blue bags are available at the Hoh Visitor Center and the
Glacier Meadows Ranger Station (summer only).
Water Source: Glacier or snow melt
Special Concerns
Leave No Trace: Leave No Trace of your stay to protect vegetation and prevent further camping regulations.
Campfires: No campfires above Martin Creek to protect sensitive vegetation. Please use dead and down wood and leave no trace of your fire when you leave.
Respect Wildlife: To protect bears and other wildlife, all food, garbage and scented items must be stored in bear canisters if you are camping above Glacier Meadows.
Safety
In early season several steep snow slopes exist along this trail. An ice axe and crampons may be required for much of the spring and early summer. It may also be difficult to follow sections of trail due to snow. Map and compass skills may also be required during winter, spring and early summer.
During Winter months, travel above Elk Lake is not recommended due to steep avalanche chutes. Ropes and anchors may be necessary to cross these safety.
Climbing Mt. Olympus should only be attempted by experienced mountaineers who have glacier travel and crevasse rescue skills and gear.
Did You Know?
...that one criterion for the determination of a temperate rain forest is that the amount of moss and other epiphytes exceeds the weight of all the foliage (leaves and needles) per acre by at least two times.