Madison Falls Trail Closed for Repairs Beginning July 7

The one-tenth mile Madison Falls Trail and trailhead parking lot located in Elwha Valley will close to public entry beginning on Monday, July 7 while crews make improvements and repairs.
Hurricane Ridge Road Closed to Vehicles Sunday 8/3 (6:00a - noon)

Due to the "Ride the Hurricane" bicycle event, the road to Hurricane Ridge will be closed above the Heart o' the Hills entrance station from 6:00a to noon on Sunday August 3rd.
Spruce Railroad Trail Improvements to Begin August 5

Spruce Railroad Trail will be closed from the Lyre River TH to approximately 0.25 miles east of Devil's Punchbowl. Work is expected to be completed by the end of October. The remainder of the trail will be accessible from the Camp David Jr. Road TH. More »
Aurora Ridge Trail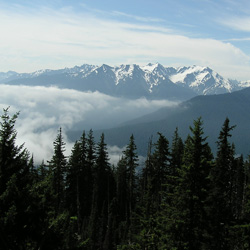 Description
Trail Conditions
Camping
Special Concerns
Safety
Map
Notices
Some sections of this trail are difficult to follow. Map and compass skills are highly recommended.
Obtain your Wilderness Camping Permit at the Wilderness Information Center (WIC) in Port Angeles, year round.
Description
Ecosystem type: Old growth forest, montane forest
Trail tread types: Primitive to maintained
General elevation trend: Steep
Unique features: High forested ridge
Level of difficulty: Moderate to difficult
Distance: 15.1 miles
Elevation change: 1300 feet to 4800 feet
Best Season: Early July through October.
Camping
Permits/Reservations: Obtain permits at the Wilderness Information Center (WIC) in Port Angeles. No reservations necessary.
Food Storage Method: Bear canisters are required in the subalpine high country where food cannot be hung at least 12 feet high and 10 ft. out from the nearest tree trunk.
Campsites: Anywhere off of vegetation and 200 feet from water sources.
Toilet Facilities: none; bury waste 6-8" 200 ft from water sources and campsites. Please pack out toilet paper.
Water Source: Nearby streams. Always boil, filter or chemically treat your drinking water to prevent Giardia.
Stock: Allowed, check stock regulations. See Stock Use.
Special Concerns
Leave No Trace: Leave No Trace of your stay to protect vegetation and prevent further camping regulations. Camp in established sites or on bare ground.
Campfires: To protect sensitive vegetation, campfires are not allowed above 3,500 feet. Leave no trace of your fire ring. Burn dead and down wood only.
Respect Wildlife: To protect bears and other wildlife, all food, garbage and scented items must be secured from all wildlife 24 hours a day. Bear canisters are recommended in this area.
Safety
Always carry the Ten Essentials: map, compass, flashlight, knife, matches, nylon cord, extra food and water, and raingear with warm clothes.
Map & compass navigation skills may be necessary in places along this trail. Snow may cover higher reaches of this trail in any season, so know how to navigate without a trail for guidance.
Let someone know where and when you are taking your hike. Make emergency plans for them to follow if you do not return.
Watch the weather before and during your hike. Storms move quickly. Whiteouts are sudden. Read the weather forecasts, but remember to read the weather in front of your face.
Did You Know?

Did you know that in 1988, Congress designated 95% of Olympic National Park as Wilderness. The Olympic Wilderness is a part of the National Wilderness Preservation System. More...