Fish and Shellfish Regulations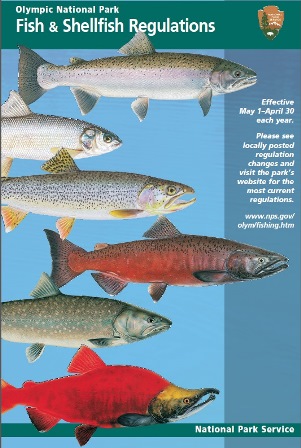 NPS
PDF documents available for download:
Olympic National Park Fish and Shellfish Regulations (updated May 2014)
General Fishing Information
Olympic National Park is managed as a natural area. The primary objectives of the fisheries management program at Olympic National Park are to preserve and restore native fishes and their habitats and provide recreational fishing opportunities for the enjoyment of park visitors. All waters within Olympic National Park are closed to the removal of any species of fish, shellfish, aquatic plants, or wildlife except as provided below. All waters as described below are open to fishing from one hour before official sunrise to one hour after official sunset. To protect the park's fish and aquatic resources, these regulations are subject to change. Please see locally posted regulation changes and notices as well as this website.
Licenses
A Washington State Recreational Fishing License is NOT required to fish in Olympic National Park EXCEPT when fishing in the Pacific Ocean from shore. No license is required to harvest surf smelt.
A Washington State catch record card is REQUIRED to fish for salmon or steelhead and they must be accounted for as if caught in state waters.
A Washington State Shellfish/Seaweed license is REQUIRED for harvest of shellfish from the Pacific Coastal Area. Harvest of seaweed, kelp, and unclassified species is prohibited (see Marine Fish and Shellfish Seasons and Limits).
Legal Gear
Recreational fishing in freshwater areas of Olympic National Park is restricted to artificial lures with single, barbless hooks (see Freshwater Seasons and Limits for exceptions).
Anglers must only use a single rod, reel and line that is under immediate control.
The use of seines, traps, drugs, explosives, and nets (except to land a legally hooked fish or dip-net smelt) are prohibited.
Anglers - please report violators to 360-565-3115 or contact the nearest Park Ranger.
Boats and Rafts
Fishing from boats or other floating devices is permitted on the following rivers: Ozette, Queets below Tshletshy Creek, Hoh downstream from the launch site approximately 1/2 mile from the park boundary near confluence of the South Fork, Hoh River in the Pacific Coastal area, Quinault below the North Shore Quinault River Bridge, Quillayute and Dickey rivers.
Motorized craft are only allowed on the Quinault below the North Shore Quinault River Bridge, in the park's coastal portions of the Quillayute, Dickey, and Hoh Rivers (in the Pacific Coastal Area), and in Lake Crescent and Lake Ozette.
Bait
Bait is defined as any artificial or natural substance that attracts fish by scent and/or flavor. Most freshwater areas of Olympic National Park are managed as "Selective" or "Quality" fishing areas where bait is prohibited. Areas open to bait fishing are listed below under "Freshwater Seasons and Limits." The following are prohibited in all park waters: possession of illegal bait; use of live or dead minnows, chub or other freshwater bait fish; attracting, collecting, or feeding fish by using fish eggs, roe, or food; and digging for bait.
Size Limits for Salmon
12 inch minimum size limit. Adult chinook are 24 inches or more and adult coho are 20 inches or more. Jack chinook are less than 24 inches and jack coho are less than 20 inches.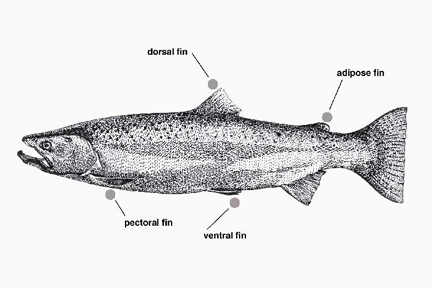 Hatchery Fish Identification and Catch and Release
Hatchery salmon and steelhead are identified by a healed scar where the adipose or ventral fins have been removed, and harvest is only allowed in areas and seasons listed below. The only exception is in the Queets River where hatchery steelhead are identified by a dorsal fin height of less than 2 1/8 inches between November 15 and February 28. All wild steelhead (unmarked and identified by intact adipose fin) must be released in Olympic National Park.
All other wild (unmarked) fish species must be released unless specifically allowed in Freshwater Seasons and Limits. Fishing for bull trout and Dolly Varden is prohibited in all park waters and these species must be released if incidentally captured. (click on image for an enlargement in a new window)
Releasing Fish
If handled properly, fish have an excellent chance for survival after they are released. Please follow these guidelines:
Land the fish as quickly as possible to minimize the fish's fatigue.
Leave the fish in the water while removing the hook.
Wet your hands and do not squeeze or hold the fish by the eyes or gills. Minimize time out of water for photos.
If the fish is hooked deeply, cut the line and leave the hook in.
Safely release fish in quiet water near point of capture. .