Emergency Closures
To protect people from severe health impacts, fishing for Dungeness crab along the coastal strip is closed, effective August 19, 2015. More closure information.
---

NPS photo by Josh Geffre
Fishing in Olympic National Park
Olympic National Park protects over 75 miles of Pacific Coast, 600 lakes, and 4,000 miles of rivers and streams that support some of the most extensive runs of wild salmon, trout, and char remaining in the Pacific Northwest.
Through the management of fish and aquatic environments, the park works to preserve and restore native fishes and their habitats and provide recreational fishing opportunities for the enjoyment of park visitors. Fisheries biologists work with the State of Washington and eight treaty tribes each year to establish harvest and gear regulations.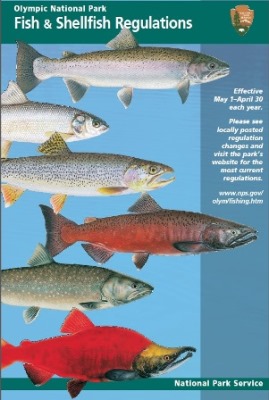 All waters in Olympic National Park are closed to the removal of fish and shellfish (including freshwater crayfish and freshwater mussels) except as described in the

Fishing and Shellfish Regulations

.
Fishing for bull trout and Dolly Varden is prohibited in all park waters and these species must be released if incidentally captured.
All wild fish species must be released unless specifically allowed in Freshwater Seasons and Limits.
Queets River & Salmon River: Anglers must release wild coho and Chinook salmon. Daily limits for hatchery salmon remain the same. Two hatchery salmon may be retained in the Queets River below Hartzell Boat Launch and three hatchery salmon may be retained in the Salmon River within the park.
General Fishing Information

License Requirements
A Washington State Recreational Fishing License is
NOT REQUIRED
to fish in Olympic National Park
EXCEPT
when fishing in the Pacific Ocean from shore. No license is required to harvest surf smelt.
A Washington State catch record card is REQUIRED to fish for salmon or steelhead and they must be accounted for as if caught in state waters.
A Washington State Shellfish/Seaweed license is REQUIRED for harvest of shellfish from the Pacific Coastal Area. Harvest of seaweed, kelp, and unclassified species is prohibited (see Marine Fish and Shellfish Seasons and Limits).
Recreational fishing in freshwater areas of Olympic National Park is restricted to artificial lures with single, barbless hooks (see Freshwater Seasons and Limits for exceptions).
Anglers must only use a single rod, reel and line that are under immediate control.
The use of seines, traps, drugs, explosives, and nets (except to land a legally hooked fish or dip-net smelt) are prohibited.
Bait is prohibited
in all park waters: possession of illegal bait, use of live or dead minnows, chub or other freshwater bait fish. Digging for bait or attracting, collecting, or feeding fish by using fish eggs, roe, or food is also prohibited.
Bait is defined as any artificial or natural substance that attracts fish by scent and/or flavor.
Please report violations to 360-565-3115 or contact the nearest Park Ranger.
Size Limits
Salmon:
Minimum

size limit for all species of salmon is 12 inches.

Maximum

size limit for Chinook is 24 inches.

Maximum

size limit for Coho is 20 inches.
Steelhead: All wild steelhead must be released.
Hatchery Fish
Hatchery fish harvest is only allowed in areas and seasons listed in the
Fishing and Shellfish Regulations
.
Hatchery salmon and steelhead are identified by a healed scar where the adipose or ventral fins have been removed. The only exception is
in the Queets River where hatchery steelhead are identified by a dorsal fin height of less than 2 1/8 inches.