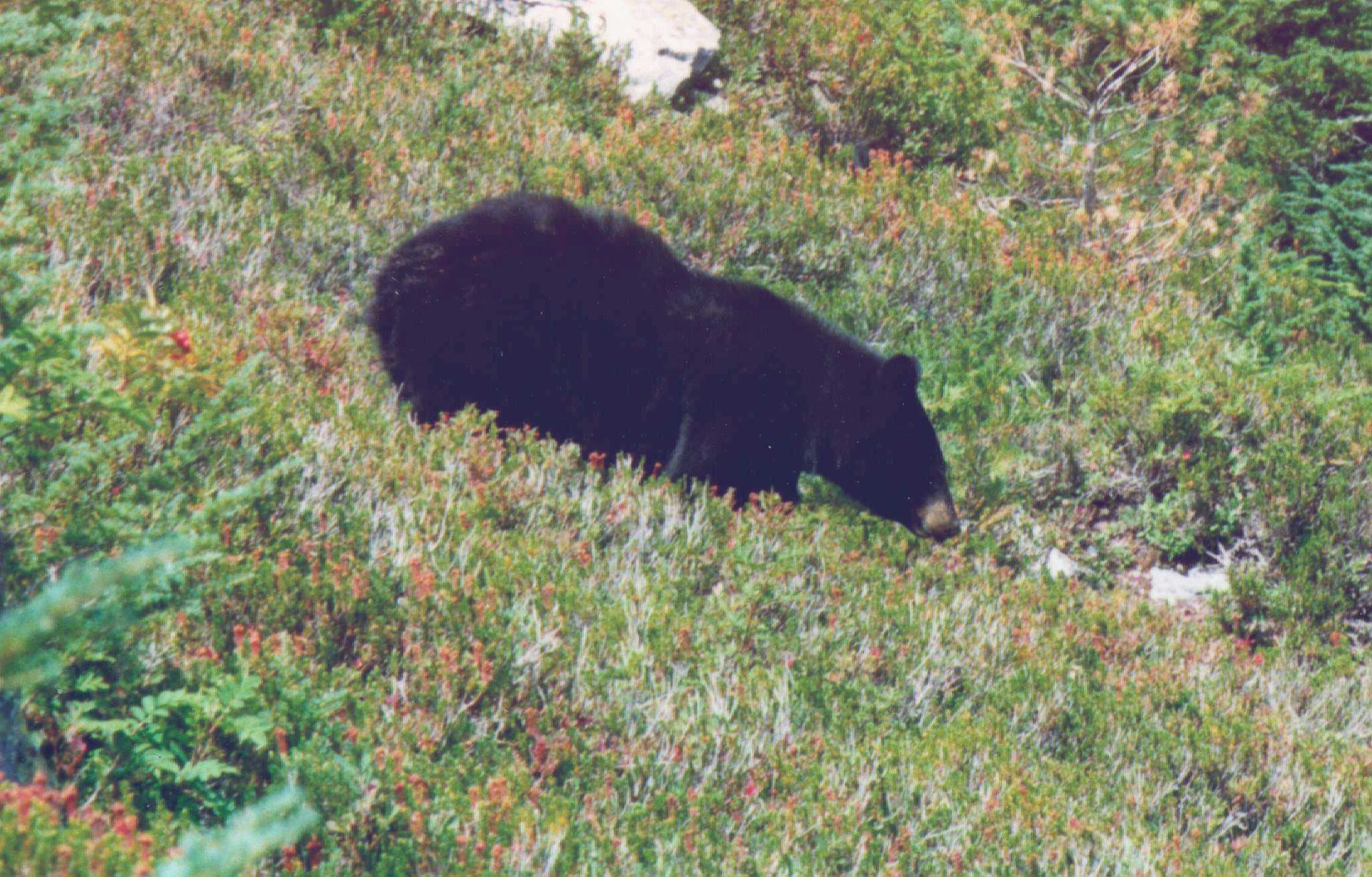 NPS
Respect Wildlife
Many animals are attracted by food smells, strong odors, and salt. Seeking food from humans and loss of natural wariness are harmful to wildlife. Many bears (mostly black, but grizzlies are possible) make their home in the North Cascades, and sightings are not uncommon. Deer, mountain goats, marmots and other rodents are attracted to the salt in urine and sweat, and they have chewed or ruined unattended gear, clothing, and boots. Help protect yourself, your gear, and all wildlife by following these requirements and tips:
Store all food and scented items properly! Bears learn quickly and return to areas where they obtain food. This can be unhealthy for the bear and problematic for you or the next visitor. To secure your food from wildlife, you will need a waterproof sack dedicated to smelly food and garbage storage, plus at least 50 feet (15 m) of lightweight cord. Hang the stuff sack with food, cooking gear, garbage, and any other scented items at least 15 feet (4.6 m) from the ground and 5 feet (1.5 m) out from the limb and tree trunk. Since trees with large limbs are not always present, this technique can require time and ingenuity. Avoid trampling fragile vegetation in your search for a tree. Learn more about food storage requirements.
Use an animal resistant food storage canister. This is an excellent alternative to a food hang, or for use in areas where trees are limited. The Wilderness Information Center loans out bear canisters free of charge, as do other ranger stations.
Keep a clean camp and minimize smells. Establish a cooking area well away from your sleeping and food storage areas, and keep tents, clothing and sleeping bags clean and free of food scents. Avoid using strongly scented items, such as cosmetics, cleansers or strong-smelling foods. Seal all leftovers and garbage in plastic bags and secure with your food away from wildlife. Whenever possible, sleep at least 100 yards (91 m) away from food storage and cooking areas. Never bury or burn leftovers or trash, or throw them in the toilets-the smell will linger and attract rodents or bears.
Leave pets at home: they can disrupt native wildlife or get injured or lost. Many hikers wish to enjoy natural surroundings without interference from domestic animals. Pets are prohibited in the National Park-be sure you know where your trail takes you.
Enjoy wildlife from a distance-never approach or feed a bear or any other wild animal. Report all bear and other unusual wildlife sightings or interactions to the nearest ranger station.