NEW OPERATING HOURS

Effective 9.29.13: Visitor Center is CLOSED Mondays & Tuesdays. Wednesdays - Sundays, the Visitor Center will be OPEN 9 AM - 4 PM. Star Fort Pond is CLOSED 9 AM Sundays – 9 AM Tuesdays. Park grounds open dawn to dusk. Gates lock at 5 PM.
Holiday Closures

The park (including parking lot and restrooms) is closed on the following upcoming holidays: Columbus Day, Veterans Day, Thanksgiving Day, Christmas Day, and New Years Day.
Things To Do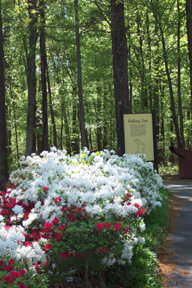 Ninety Six NHS
Begin your park experience at the visitor center. Here, you will find information on the park, the settlement, and the battles. Rangers or volunteers at the information desk are glad to help you. Primary facilities in the visitor center are a twenty-two minute live-action theater film, "Crossroads of Revolution" (shown on request); a colorful museum combining informative text with original artifacts and weaponry; and a bookstore (operated by Eastern National) offering visitors over 100 publications and theme-related items for sale on the battle and the Revolutionary War. Bookstore hours are the same as the visitor center. Public restrooms are located opposite the visitor center.
For park visits occurring when the visitor center is closed, park maps and the NPS passport stamp are available at the trailhead near the bulletin board.
Click Outdoor Activities or Indoor Activites to find out what Ninety Six National Historic Site has to offer.


Did You Know?

Henry "Light Horse Harry" Lee got his nickname because of his daring rides against the British. Lee's Legion wore green uniforms like those of the British Cavalryman Banastre Tarleton. It allowed them to operate in enemy territory & blend with the landscape.