NEW OPERATING HOURS

Effective 9.29.13: Visitor Center is CLOSED Mondays & Tuesdays. Wednesdays - Sundays, the Visitor Center will be OPEN 9 AM - 4 PM. Star Fort Pond is CLOSED 9 AM Sundays – 9 AM Tuesdays. Park grounds open dawn to dusk. Gates lock at 5 PM.
Things To Do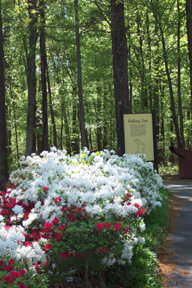 Ninety Six NHS
Ninety Six National Historic Site: Where Nature and History Stand Together
The National Park Service "purpose is to conserve the scenery and the natural and historic objects and the wildlife therein and to provide for the enjoyment of the same in such manner and by such means as will leave them unimpaired for the enjoyment of future generations." THE NATIONAL PARK SERVICE ORGANIC ACT 1916
"I wish to speak a word for Nature, for absolute freedom and wildness…in wildness is the preservation of the world." Henry David Thoreau, Walking, 1862
British Lord Cornwallis wrote to Lieutenant Colonel Francis Rawdon "You know the importance of Ninety Six, let that place be your constant care…" February 4, 1781
Lord Cornwallis wrote to Lieutenant Colonel John Harris Cruger "keeping possession of the backcountry is to up most importance, indeed the Success of the War in the Southern District depends totally upon it…" August 5, 1780
Click: Outdoor Activities or Indoor Activites to find out what Ninety Six National Historic Site has to offer.


Did You Know?

On June 18, 1781, 50 men called the Forlorn Hope rushed forward to attack the Star Fort. They were led by Lt Isaac Duval of 1st MD & Lt Samuel Selden of 1st VA. The name Forlorn Hope means that many would be wounded or killed in the attack.