NEW OPERATING HOURS

Effective 9.29.13: Visitor Center is CLOSED Mondays & Tuesdays. Wednesdays - Sundays, the Visitor Center will be OPEN 9 AM - 4 PM. Star Fort Pond is CLOSED 9 AM Sundays – 9 AM Tuesdays. Park grounds open dawn to dusk. Gates lock at 5 PM.
Candlelight Tour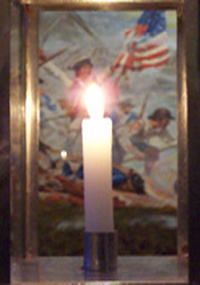 Ninety Six National Historic Site
Saturday, October 10, 2009
Annual Candlelight Tour
See the latest pictures from the event. Click on 2009 Candlelight Tour slideshow.
---
Watch a VIDEO of the 2007 event or click on the slideshows below to view pictures of past events.

National Park Service
Take a walk back into History!
Did You Know?

During the Siege of Ninety Six, Patriots built a Maham Tower. Sharpshooters were able to fire into the Loyalist held Star Fort. The Loyalists tried to burn the tower but it was made of green wood & would not burn. The original was 30 ft tall, but our replica at Ninety Six NHS is only 10 ft tall.