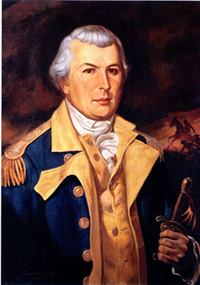 Robert Wilson oil painting, 1978
Patriot Commander
Born: July 27, 1742, Rhode Island
Died: June 19, 1786 Savannah, GA
Buried: Savannah, GA
● October 17, 1780: Chosen by General George Washington to command the Southern Department.
● December 3, 1780: Assumed command.
At Ninety Six:
May 22- June 19, 1781
Greene said, "Ninety Six must fall."
● 38 years old
● May 21-22: After conferring with Kosciuszko, Greene decided to set siege to the Loyalist held Star Fort. Greene commanded about 1,624 troops at Ninety Six.
● June 3: Asked Loyalist commander John Harris Cruger to surrender. Cruger refused.
● June 6: Learned that British reinforcements were headed for Ninety Six.
● June 18: Directed assault on the Star Fort. Allowed the assault because his men wanted to at least try to take the Fort.
● June 19: Prepared Patriot Army to withdraw from Ninety Six.
● June 20: Left Ninety Six to the Loyalists.
Painting is a copy of a portrait of Greene that hangs in the Capital in Washington, DC.