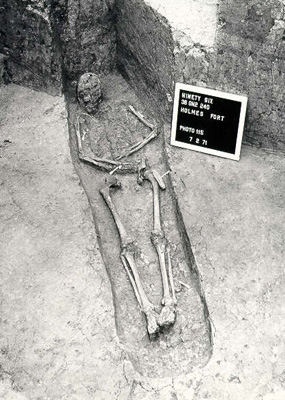 Ninety Six National Historic Site
James Birmingham, of the Long Cane Militia, is considered to have been the first Patriot killed in the South during the American Revolution. Not much is known about him other than he might have lived on Penny's Creek off of Long Cane Creek in present Abbeville County. Birmingham was the only patriot soldier killed during the Battle of Ninety Six at Williamson's Fort, November 19-21, 1775. The loyalist forces lost a soldier known as Captain Luper.
In 1972, human remains were uncovered within the outline of the 1775 Williamson's Fort during an archeological project led by Stanley South of the University of South Carolina's Institute of Archeology and Anthropology. Are the remains those of James Birmingham? The mystery will remain until conclusive evidence proves his identification beyond doubt.
Today, a granite memorial stands in Birmingham's honor located near the entrance to the stockade fort and is surrounded by an iron fence. The memorial reads:
The first South Carolinian
Ninety Six, South Carolina
NPS