NEW OPERATING HOURS

Effective 9.29.13: Visitor Center is CLOSED Mondays & Tuesdays. Wednesdays - Sundays, the Visitor Center will be OPEN 9 AM - 4 PM. Star Fort Pond is CLOSED 9 AM Sundays – 9 AM Tuesdays. Park grounds open dawn to dusk. Gates lock at 5 PM.
A Backcountry Holiday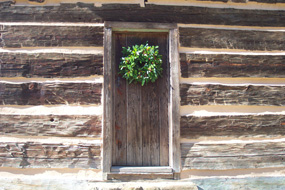 Ninety Six National Historic Site
Saturday, November 28, 2009
The 4th annual, original A Backcountry Holiday. Come celebrate the Holidays. Colonial style.
Next year's event: Saturday, November 27, 2010
Did You Know?

Henry "Light Horse Harry" Lee got his nickname because of his daring rides against the British. Lee's Legion wore green uniforms like those of the British Cavalryman Banastre Tarleton. It allowed them to operate in enemy territory & blend with the landscape.