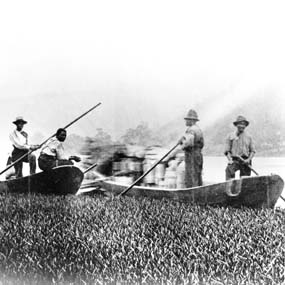 Before the coming of the whitewater rafting industry, commerce along the New River was carried by long, flat bottomed boats called batteaux. The name batteau derives from the French word bateau, meaning boat; the plural form is batteaux.
The New River has always been an important northern and western travel corridor through the rugged Appalachian Mountains. The New River watershed helped to connect the James Rivers Atlantic watershed along the Eastern Continental Divide to the Kanawha and Ohio rivers west to the Mississippi.
From the earliest days of our nation, George Washington had envisioned a cross country canal route along this pathway. In 1812, John Marshall, fourth Chief Justice of the Supreme Court, lead an exploratory batteau expedition starting on the James River, continuing down the Greenbrier to Hinton and the confluence with the New River. Marshall's expedition travelled, with great difficulty, downstream past present day Hawks Nest State Park, naming the spot for the abundance of ospreys they sighted. Washington's dream of the southern Chesapeake and Ohio Canal was dashed by the whitewater rapids of the lower New River Gorge, which Marshall reported as being too wild for commercial batteau navigation.
The overland Midland Trail became the main commercial connector bypassing the New River Gorge to the Kanawha, but batteaux provided commercial transportation along the lower Greenbrier and upper New Rivers. Beginning in the mid-1800's the Army Corps of Engineers blasted sluice channels through ledges and rapids along these rivers to improve access for batteaux.