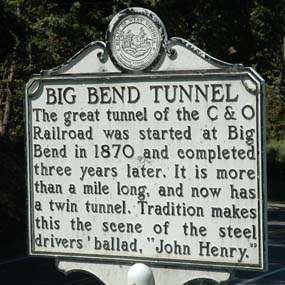 Historical research supports John Henry as a real person; one of thousands of African- American railroad workers, specifically a steel driver, half of a two man team specializing in the hand drilling of holes up to fourteen feet deep into solid rock for the setting of explosive charges. Steel drivers swung a nine pound hammer straight and strong, all day, everyday, pounding assorted lengths of steel drill bits held by their steady and trusting partners, called shakers, who placed and guided the drill bits , and after every strike of the hammer turned or "shook" the bits to remove the pulverized dust. Together these teams of perfectly choreographed industrial artists would with concentration and muscle lead the way, boring the mile long tunnel through Great Bend Mountain and onward along the pathway throughout the length of New River Gorge.
Legend and history merged when to test the viability of purchasing steam powered drilling machines to replace the human drilling teams, the railroad staged a contest at the Great Bend Tunnel. Chosen for their skill and speed to compete against the machine, John Henry and his shaker (history does not record his name, although legend sometimes calls him "Little Bill") faced off side by side with the steam drill and won, drilling farther and faster.
Whatever version of the race you choose to believe, the result was the same. The construction of the Great Bend Tunnel and the entire C&O rail line was not a product of the modern machinery of the industrial age but the basic physical labor of thousands of now unknown workers in an everyday struggle to make a living for themselves and their families.
Historians also believe that John Henry died at the Great Bend Tunnel, one of the estimated hundreds of workers dying in rock falls, malfunctioning explosions and "tunnel sickness(the excessive inhalation of dust), who now rest in unmarked graves at the tunnel entrance below the statue of John Henry, who still stands as their champion.
John Henry was but one of the thousands of men whose strong backs, sweat, blood, and desire to build a new life for themselves and their families were the true foundation for the coming of the Chesapeake and Ohio railroad, the growth of our nation, and the whistle you still hear today.