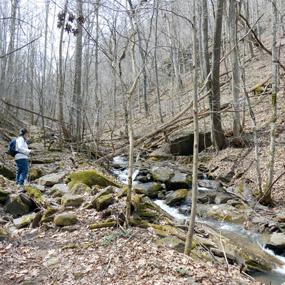 Dave Bieri
The steep hillsides of tall trees and forest floor, now thick with ferns and wildflowers were once pastures and hayfields for grazing cattle, horses and mules. The level areas were planted in corn, potatoes and other vegetables. The trail was a wagon road that followed the creek bank past her grandparent's house and grist mill, near the creeks confluence with the New River, up and past her families home and further on up to a one room school house and other farmsteads along the headwaters of Big Branch Creek.
Bertha lived in a four-room house with her parents, Daniel and Pearl Berry, and her three brothers and one sister. As the oldest daughter she was her mother's helper. When she wasn't at school, she worked in the garden and helped watch over the younger children. Bertha remembered pulling her brother from a flooding creek above the waterfall, hunting ginseng on the mountainside, and gathering the last chestnuts from the trees dying of the chestnut blight.
Daniel Berry walked five miles down Big Branch Creek and New River each day to work at the New River Lumber Company mill at Longbottom. Bertha and her mother also walked there to trade for groceries. Even into the 1940's, the Berry family lived without a car, electricity, running water, or telephone. Bertha's little brother, whom she helped care for died from illness at two years of age, her older brother was struck and killed by a train on the track along New River at fifteen.
Knowing the story of the Berry family's life on Big Branch or "Berry's Holler" makes hiking the trail a unique experience, but be careful, for the history goes back much further than the Berry family. Bertha said that the ghost's of murdered Indians roam the trail, too.