Plan Your Visit
Welcome to America's Front Yard!
For more than 200 years, the National Mall has symbolized our nation and its democratic values, which have inspired the world. The National Mall - the great swath of green in the middle of our capital city and stretching from the foot of the United States Capitol to the Potomac River - is THE premiere civic and symbolic space in our nation.
National Mall and Memorial Parks protects the national mall and its iconic monuments and memorials and over 1,000 acres of greenspace in Washington, DC. Come to visit the National Mall and stay to explore all that National Mall and Memorial Parks has to offer.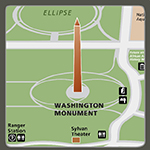 NPS
Maps and Directions

Use National Mall and Memorial Parks award-winning wayfinding
system of maps and pylons to navigate your way around the National Mall.
Or visit our Directions page to find your way here by public transportation,
bicycle, car, or air.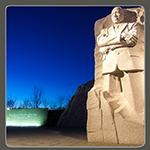 NPS
Hours and Seasons
National Mall and Memorial Parks is open 24 hours a day. The early evening and morning hours are some of the most beautiful and tranquil time to visit.
Please visit the Operating Hours and Seasons for more information on staffing, facility, and museum hours.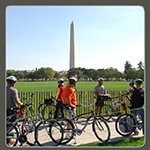 NPS Photo
Things To Do
Use the links below to discover more about visiting the iconic monument and memorial protected by National Mall and Memorial Parks.But don't stop there!
Visit our Things to Do and Schedule of Events pages to discover a wide of array of activities from paddle boats and bike tours to nighttime walks with a park ranger.
Visit the Iconic Memorials and Monuments:
District of Columbia War Memorial
East Potomac Park
Hispanic Heroes on Virginia Avenue, NW: José Gervasio Artigas Park Simón Bolívar Park José de San Martin Park Bernardo de Gálvez Park Benito Juárez Park
Japanese American Memorial to Patriotism During World War II
National Law Enforcement Officers Memorial
West Potomac Park
Plus 150 reservations, circles, fountains, and park spaces in downtown Washington, D.C.


Did You Know?

The Washington Monument was the tallest building in the world when it was completed in 1884.