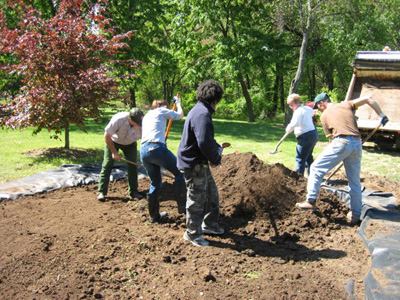 The Youth Conservation Corps at National Capital Parks - East Invites You to Participate!
Each summer, youth from around the Washington, D.C. metropolitan area can participate in making their national parks shine.
The Program
The Youth Conversation Corps (YCC) is a well-balanced work-learn-earn program that develops understanding and appreciation in participating youth of the nation's environment and heritage. YCC offers gainful employment to youth for approximately eight weeks, in a healthful outdoor atmosphere.
Eligibility Requirements
Young men and women, 15 through 18 years of age who are permanent residents of the United States, its Territories or possessions are eligible for employment without regard to social, economic, racial or ethnic backgrounds. Handicapped youth who can effectively participate in most YCC activities are eligible. Youth must have no history of serious criminal or other antisocial behavior, have or be able to obtain a work permit as required under the law of their State, have a Social Security number or have made application for one, be willing and able to work hard and participate in most work projects. Projects include building trails, maintaining fences, cleaning up campgrounds, improving wildlife habitat and thinning timber stands.
How You Can EnrollEligible youth can send in their application year-round for the next summer season. The deadline for the coming summer is usually mid-April. Click on "How can You Enroll" to download an application form.