Pets
Activities with pets are very limited at Natural Bridges. Pets are not allowed on any hiking trails. Pets may accompany visitors in the campground, and at overlooks and pullouts along the paved scenic drives. Pets may be walked on roads or in parking lots, but must be leashed at all times when outside a vehicle.
Important!
The desert can be deadly for pets. Car temperatures rise quickly in the sun, even on cool days. Your pet can easily die of heat exhaustion. If you are leaving a pet in a car, crack the windows as much as possible and leave water to drink. We recommend you not leave pets in the car at all when temperatures are above 68 degrees, even with the windows cracked.
There are no boarding facilities in Blanding or Monticello. The following kennels offer boarding services in Moab:
Moab Veterinary Clinic

4575 Spanish Valley Drive

(435) 259-8710
Karen's Canine Campground

2781 S. Roberts

(435) 259-7922


Did You Know?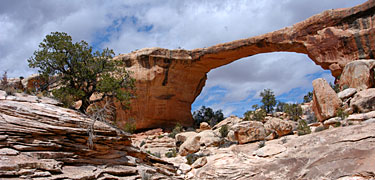 Sipapu means "the place of emergence," an entryway by which the Hopi believe their ancestors came into this world. Kachina is named for rock art on the bridge that resembles symbols commonly used on kachina dolls. Owachomo means "rock mound," a feature atop the bridge's east abutment.