Operating Hours & Seasons
Natural Bridges is open year-round. The visitor center is open daily from 8:00 a.m. to 5:00 p.m. (October and April) 9:00 a.m. to 5:00 p.m. (November through March) and 8:00 a.m. to 6:00 p.m. (May-September).
The visitor center is closed on Thanksgiving Day, Christmas Day and New Year's Day.


Did You Know?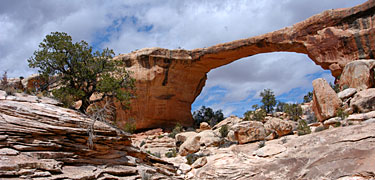 Sipapu means "the place of emergence," an entryway by which the Hopi believe their ancestors came into this world. Kachina is named for rock art on the bridge that resembles symbols commonly used on kachina dolls. Owachomo means "rock mound," a feature atop the bridge's east abutment.