Directions
GETTING HERE
Bus
Commercial bus and van shuttles service nearby towns. There is no bus service to the monument itself.
Car
The entrance to Natural Bridges is at the end of Highway 275, which is roughly 35 miles west of Blanding, UT on Highway 95. Driving time from Blanding is roughly 45 minutes.
Plane
Commercial airlines serve Cortez, CO, Grand Junction, CO, Salt Lake City, UT as well as other cities in the southwest.
GETTING AROUND
Visitors usually tour the scenic drive by car or bicycle.


Did You Know?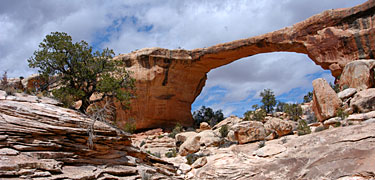 Sipapu means "the place of emergence," an entryway by which the Hopi believe their ancestors came into this world. Kachina is named for rock art on the bridge that resembles symbols commonly used on kachina dolls. Owachomo means "rock mound," a feature atop the bridge's east abutment.