The gate to Paradise at Longmire closes nightly.

Mon-Fri: Closes at 5:00 pm, depart Paradise no later than 4:30 pm to safely drive down the hill before the gate closes. Sat-Sun: Closes at 7:00 pm, depart Paradise no later than 6:30 pm. More »
Expect delays due to road construction.

Expect 20 minute delays from Nisqually Entrance to Longmire due to on-going road work as part of the Nisqually-Paradise Road Rehabilitation Project. More »
Watch out for hazardous winter conditions!

As the amount of snow in the park increases, be aware of increased risk of Avalanches and Snow Immersion Suffocation. More »
Wilderness Camping and Hiking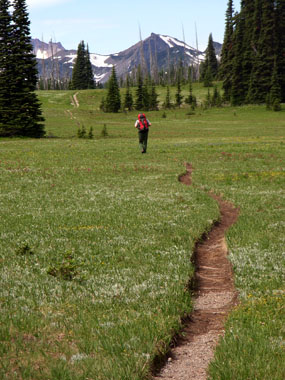 INTRODUCTION
Permits are not required for day hiking. However, camping overnight in the wilderness at Mount Rainier requires a permit. In the summer, permits can be obtained at any ranger station in the park during their hours of operation. Obtain permits at: the Longmire Wilderness Information Center at Longmire, the Jackson Visitor Center at Paradise, the Ohanapecosh Visitor Center at Ohanapecosh, the White River Wilderness Information Center at the White River Entrance, the Sunrise Visitor Center at Sunrise and the Carbon River Ranger Station at the Carbon River Entrance.
In the winter, permits are available at the Longmire Museum every day and the Jackson Visitor Center on weekends. Self-registration during the winter is available at the Carbon River Ranger Station, Ohanapecosh Ranger Station, and the Highway 410 entrance arch at the park's north boundary. Learn more about winter camping at Paradise. Winter camping ends by May 15 each spring.
Did You Know?

For many years, the Paradise Ice Caves were a popular attraction at Mount Rainier. Until the 1980s, visitors could explore passages within the Paradise Glacier which had formed due to seasonal melting of the ice. By the early 1990s, climate change had melted away the last traces of the caves. More...