Expect delays due to road construction.

Road construction is underway from the Nisqually Entrance to Longmire. The road has very rough areas. All vehicles should proceed with caution. Mon to Fri expect up to 30 minute delays and slow travel for 7 miles. More »
Melting snow bridges and high streamflows create hazards for hikers, skiers, and snowshoers

Be aware of hidden- and potentially fatal- hazards created by snow bridges and high streamflows on Mount Rainier. More »
Wilderness Camping and Hiking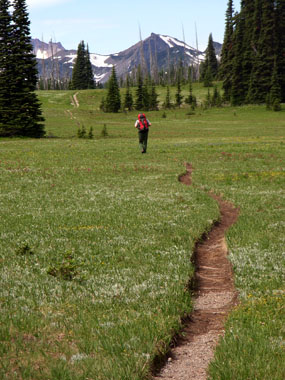 INTRODUCTION
Permits are not required for day hiking. However, camping overnight in the wilderness at Mount Rainier requires a permit. In the summer, permits can be obtained at any ranger station in the park during their hours of operation. Obtain permits at: the Longmire Wilderness Information Center at Longmire, the Jackson Visitor Center at Paradise, the Ohanapecosh Visitor Center at Ohanapecosh, the White River Wilderness Information Center at the White River Entrance, the Sunrise Visitor Center at Sunrise and the Carbon River Ranger Station at the Carbon River Entrance.
In the winter, permits are available at the Longmire Museum every day and the Jackson Visitor Center on weekends. Self-registration during the winter is available at the Carbon River Ranger Station, Ohanapecosh Ranger Station, and the Highway 410 entrance arch at the park's north boundary. Learn more about winter camping at Paradise. Winter camping ends by May 15 each spring.
CHOOSE WHERE YOU WOULD LIKE TO GO:
Wilderness Permits & Reservations - April 21, 2014: SUMMERLAND AND INDIAN BAR ARE FULL FROM MID JULY TO LATE SEPTEMBER. As of today, we are still processing reservation requests. We received 2,000 during the March 15-31 time-frame. We have now reached the point where we are not able to successfully process the majority of requests for Wonderland Trail permits. Permits received after March 31 have much smaller odds of being fulfilled. If we are not able to book your trip we will send you a letter notifying you of this. Processing began April 1. Many camps are now full, especially between mid-July and late September. The option to a reservation is a first-come, first served permit. Requests received in March, April and May could take up to eight weeks to process because of the large number of applications. Each one is processed by hand with usually only 1-2 rangers assigned to this duty. It will be well into May/early June before this initial batch of reservation requests are completed. This means you may not get a reply from the park for some weeks, depending on when your request is processed. As the season goes on and the initial pile of requests are whittled down, the park is able to process and reply to reservation requests in 1-2 days.
FULL CAMPS- Last updated April 23, 2014- Check here to see a list of full camps on the Wonderland Trail.
Current Trail And Backcountry Camp Conditions
Mount Rainier's Wilderness Guidelines And Regulations
Park Maps (including the Wilderness Trip Planner Map)
Did You Know?

In the early 1930s the Civilian Conservation Corp constructed fire lookouts throughout the park to help protect the surrounding area from fire. Four historic lookouts still remain in the Mount Rainier National Historic Landmark District including Tolmie, Shriner, Fremont, and Gobblers Knob.