Nisqually to Paradise delays and Kautz Creek area closure.

Road construction from the Nisqually Entrance to Longmire. Expect a 30-minute delay, Monday through Friday. Beginning May 29 to mid-June, all services at the Kautz Creek parking and picnic area are closed through the week. Limited parking on Sat & Sun. More »
Melting snow bridges and high streamflows create hazards for hikers, skiers, and snowshoers

Be aware of hidden- and potentially fatal- hazards created by snow bridges and high streamflows on Mount Rainier. More »
Wilderness Camping and Hiking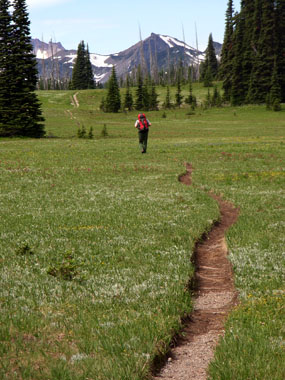 INTRODUCTION
Permits are not required for day hiking. However, camping overnight in the wilderness at Mount Rainier requires a permit. In the summer, permits can be obtained at any ranger station in the park during their hours of operation. Obtain permits at: the Longmire Wilderness Information Center at Longmire, the Jackson Visitor Center at Paradise, the Ohanapecosh Visitor Center at Ohanapecosh, the White River Wilderness Information Center at the White River Entrance, the Sunrise Visitor Center at Sunrise and the Carbon River Ranger Station at the Carbon River Entrance.
In the winter, permits are available at the Longmire Museum every day and the Jackson Visitor Center on weekends. Self-registration during the winter is available at the Carbon River Ranger Station, Ohanapecosh Ranger Station, and the Highway 410 entrance arch at the park's north boundary. Learn more about winter camping at Paradise. Winter camping ends by May 15 each spring.
Did You Know?

The first photograph taken at the summit of Mount Rainier was taken at noon on August 14, 1888. Among the group photographed that day at the crater rim are naturalist John Muir, and P. B. Van Trump, one of the first two men known to have reached Rainier's summit.