Wilderness Camping and Hiking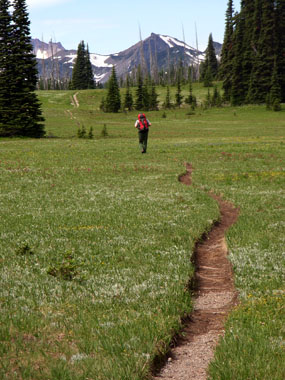 INTRODUCTION
Permits are not required for day hiking. However, camping overnight in the wilderness at Mount Rainier requires a permit. In the summer, permits can be obtained at any ranger station in the park during their hours of operation. Obtain permits at: the Longmire Wilderness Information Center at Longmire, the Jackson Visitor Center at Paradise, the Ohanapecosh Visitor Center at Ohanapecosh, the White River Wilderness Information Center at the White River Entrance, the Sunrise Visitor Center at Sunrise and the Carbon River Ranger Station at the Carbon River Entrance.
In the winter, permits are available at the Longmire Museum every day and the Jackson Visitor Center on weekends. Self-registration during the winter is available at the Carbon River Ranger Station, Ohanapecosh Ranger Station, and the Highway 410 entrance arch at the park's north boundary. For more information on winter camping at Paradise, travel here. Winter camping ends by May 15 each spring.
CHOOSE WHERE YOU WOULD LIKE TO GO:
ATTENTION
May 14, 2013: Attempting to reserve camps to hike the entire Wonderland Trail, or a large part of it, is no longer possible for trips starting between July 13 and September 25. See the FULL CAMPS list below. The number of applications for the Wonderland Trail are unprecedented this season.


March 31, 2013: The park has received 1,450+ wilderness reservation requests in the first 17 days of the application process (March 15 - March 31). This is a record, with a 50% increase in permit requests. Demand for the Wonderland Trail is incredibly high this summer and not all requests for camps and/or itineraries for the Wonderland Trail will be fulfilled by the reservation process. In any event you will receive notification in the mail informing you of the outcome of your request. In addition to the 1,450+ requests that were received before April 1, we will continue to receive requests every day for the remainder of the season (April 1 through September 30). For those not able to secure a reservation there is a first-come, first-served option. Read about that here.
FULL CAMPS LAST UPDATED May 14, 2013: Travel Here To See Which Camps Are Full For Reservations On The Wonderland Trail.
Wilderness CAMPING And CLIMBING RESERVATIONS And Permit Information
Wilderness Reservation Request Form Please do not fax and mail your reservation form. Choose only one method. Doing both creates multiple problems.
Current Trail And Backcountry Camp Conditions
Mount Rainier's Wilderness Guidelines And Regulations
Park Maps (including the Wilderness Trip Planner Map)
Current Hours Of Operations, Contact Information And Road Status
Did You Know?

In June 1945, President Harry Truman visited Mount Rainier National Park, dined at the Paradise Inn and played a song on the Inn's piano.  This piano and other notable items are preserved today in the Paradise Inn, part of an effort to maintain the park's rich historic legacy. More...