Nisqually to Paradise Delays

Road construction from the Nisqually Entrance to Longmire. Expect a 30-minute delay, Monday through Friday. More »
Wilderness Camping and Hiking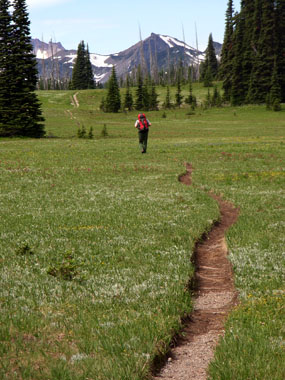 INTRODUCTION
Permits are not required for day hiking. However, camping overnight in the wilderness at Mount Rainier requires a permit. In the summer, permits can be obtained at any ranger station in the park during their hours of operation. Obtain permits at: the Longmire Wilderness Information Center at Longmire, the Jackson Visitor Center at Paradise, the Ohanapecosh Visitor Center at Ohanapecosh, the White River Wilderness Information Center at the White River Entrance, the Sunrise Visitor Center at Sunrise and the Carbon River Ranger Station at the Carbon River Entrance.
In the winter, permits are available at the Longmire Museum every day and the Jackson Visitor Center on weekends. Self-registration during the winter is available at the Carbon River Ranger Station, Ohanapecosh Ranger Station, and the Highway 410 entrance arch at the park's north boundary. Learn more about winter camping at Paradise. Winter camping ends by May 15 each spring.
Did You Know?

The Paradise meadows were once home to a golf course, rope tows for skiers, an auto campground, and rows of tent cabins. All of these activities damaged the meadows, as does walking off-trail. Management practices have changed over the years, and we now protect and restore our precious subalpine meadows.