Mount Fremont Lookout Trail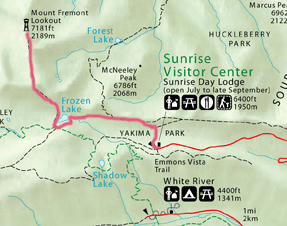 Trail Description:

Distance, round-trip:

5.6 miles

Elevation gain:

900 feet

Hiking time, round-trip:

3 hours

Wilderness camps:

None

td>

The trailhead starts at 6,400 feet elevation at Sunrise and climbs moderately a short distance to the top of Sourdough Ridge. Follow the Sourdough Ridge trail west to the five way trial intersection at Frozen Lake. From there, the trail to Mt. Fremont traverses the west side of a rocky ridge for another 1.3 miles to a fire lookout built in the 1930s.


Along the Trail:


The entire trail from Sunrise to the lookout is through meadowland and over rocky crags. On a clear day hikers can enjoy superb views of Mount Rainier, the Cascades, and the Olympic Mountains. North of the lookout lies the spectacular meadows of Grand Park.


Backpacking:


There is no camping at or around the lookout. Permits are required for camping. Fires are prohibited. No pets on trails. Treat water before drinking.
Wilderness Permit

Reserve your Wilderness Permit for backcountry camping and climbing. Read More

Trail Conditions

Planning a trip into the Mount Rainier backcountry? Find out what the trails are like before you go. Read More

Visit Mount Rainier: Sunrise

Sunrise is the highest point that can be reached by vehicle at Mount Rainier Read More