Parks as Classrooms
The curricula will help you both in the classroom and on your field trip to Monteuzma Castle and Tuzigoot National Monuments! It features lesson plans for the cultural and natural world.
Cover Page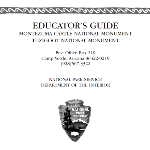 Montezuma Castle and Tuzigoot Educator's Guide
Learn More
Need help getting started with your field trip? Visit our suggestions page for ideas, tips and guides!
Adults can be free too! Fill out a fee waiver at least 2 weeks ahead of your trip and you and your chaperones will get free entrance along with the kids.