Ranger Programs And Guided Activities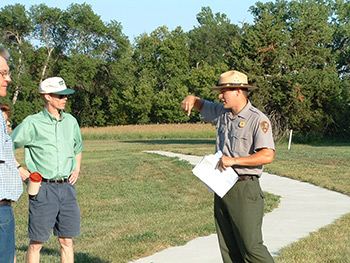 NPS Photo
Ranger Programs
Like many other units of the National Park Service, MNRR offers a variety of ranger programs, activities, and tours for all ages. There are no fees for any interpretive or educational programs. Some programs are presented at state parks that charge an entrance fee. Use the links above to see our schedule.
Tours of Historic Yankton's Riverfront and the Meridian Bridge. These programs emphasie the Wild and Scenic Missouri's past, present and future. They are given on an demand basis for groups during the summer. For more information call park headquarters at 605-665-0209.
National Park Rangers staff the Territorial Capitol replica in Yankton's Riverside Park Monday-Friday during the summer. Special exhibits, programs, and kids' activities change weekly.
Ranger programs on the Missouri National Recreational River's natural and cultural history are presented throughout the summer at some of Niobrara State Park's Saturday evening buffalo cookouts which begin at 6:00 p.m. Programs are also presented in the RV campground.
Special events will be presented Saturday afternoons at partner sites, rotating among Ponca, Niobrara, and Lewis & Clark state parks, Lake Yankton, and Riverside Park.
Special exhibits, demonstrations, living history, and Junior Ranger programs are presented Sundays from 10:00 am to noon at the Lewis & Clark Visitor Center from Memorial Day through Labor Day. Topics include the equipment of the Lewis & Clark Expedition, early trade along the Missouri, homesteading, and native and invasive plants.
Ranger Guided Activities
Canoeing programs are given on Lake Yankton several times during the summer months.

Guided canoe/kayak trips are given down the MNRR on selected Sunday afternoons during the summer. Paddlers should have experience in river conditions and be able to supply their own canoe/kayak. Life jackets required.

Conducted fishing programs occur several times during the summer and allow novice anglers to learn the basics of fishing the Missouri. MNRR has a supply of tackle that can be used by participants.

What to Bring On Guided Activities - Hikes and Canoe/Kayaking
Sturdy foot gear is a must for all but the very easiest of hikes. Everyone should have good boots, with strong support, to help prevent ankle injuries.


Bring water with you! The Great Plains can get very hot in the summer.


Mosquitoes and flies can be bothersome. Come prepared with repellent to meet some of the MNRR's smaller wildlife species.


A couple of hours of hiking or paddling can expose you to more sun and UV rays than normal. Wear a hat and sunscreen. It will help keep you cool and prevent a sunburned scalp!


For paddling activities, strap-on sandals or water shoes are preferable to flip-flops.


For bicycle programs, wear closed-toe shoes and your helmet.


Weather can change quickly. Come prepared with rain gear for summer showers.


Bring something to eat while you are on the trail or water. If you are on a hike around the noon hour, you'll get mighty hungry without lunch. Remember, if you pack it in, pack it out.


Children are welcome on interpretive activities, but should always be accompanied by an adult.


Come prepared to have a great time!