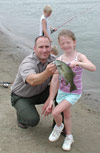 NPS photo
Fun At Missouri National Recreational River
There are lots of fun things to do along the Missouri River including:
Start with one of our Junior Ranger programsthere
There are ranger programs that include fishing clinics, history walks, and bike rides.
Attend programs in the Lewis & Clark Visitor Center - you can discover how homesteaders got their free land, what kind of equipment Lewis & Clark used on their expedition, and you can even learn Plains Indian sign language or try your hand at trading!
View amazing wildlife such as the

many Bald Eagles within Missouri National Recreational River, including over a dozen resident pairs. Mid winter is the best time to find them near Gavins Point Dam and Fort Randall Dam.
NPS Online Activities for Kids and Learners of All Ages
Nature-based Online Activities for Kids
Get busy on the Enivronmental Protection Agency's "Climate Change Kids Site" webpage with explanations of weather and the greenhouse effect. Become a climate detective.
Act fast after you read the U.S. Department of Energy's "Kids Saving Energy" website. Learn how to start the saving process at home and find renewable energy sources. Go so far as to do a home energy audit.
Be a science sleuth in NASA's "For Kids Only: Earth Science" website. Study the land, water, air and natural hazards (like storms) to understand what's going on around you. Also check out NASA's "Climate Kids."
Take on the job of a "Natural Inquirer" and an "Investi-gator" in free science journals that highlights U.S. Forest Service science. The "Natural Inquirer" is made for middle-school students while the "Investi-gator" assists upper-elementary students. Each edition has lesson plans, word games, and correlations to National Science Education Standards.
Learn the scoop on "Science News for Kids" by a D.C. non-profit called the Society for Science & the Public--the publisher of Science News.
Get smart quick through three well-respected nature-based education programs: Project Wet, Project Wild and Project Learning Tree--often with free posters or CDs to help you learn.
Have your mom or dad help you sift through the "Education Internet Resources for Teachers" [317 kb PDF] for ideas on how to study park geology to historic places.