Ranger Programs and tours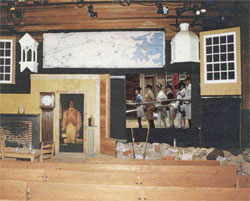 MULTIMEDIA PROGRAM (Free)
"The Road To Revolution"
Located at the Minute Man Visitor Center, this award winning, multimedia theater program gives an excellent introduction to the historic events of April 19, 1775.
Shown every thirty minutes, 9:00 a.m. - 4:30 p.m.
Daily, April 1 - November 2, 2014
Shown every thirty minutes, 9:00 a.m. - 3:30 p.m.
Tuesday - Saturday, November 4 - 29, 2014 (Closed Thanksgiving, November 27)

To make reservations for your group (recommended for groups larger than 15 people), call (978) 318 - 7832 or email
Autumn 2014 and Spring 2015 reservations are now open.
RESERVATION POLICY - Please read carefully
Weekdays in April - June, and October and November, bus tours and other large groups are welcome to reserve any slot between 1:30 and 4:30 p.m. (or 3:30 if after November 2) However, between 9:00 a.m. and 1:00 p.m. schools that have reserved the "Rebels, Redcoats and Homespun Heroes" ranger-guided education program take priority. No other groups may reserve those times. Unscheduled groups of 15 people or more who arrive between the times of 9:00 a.m. - 1:00 p.m. will be seated as general public as space allows.
---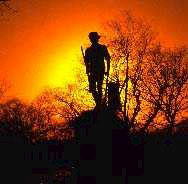 NORTH BRIDGE RANGER PROGRAM

"Some Were For Making A Stand"
Location: North Bridge (rain location, North Bridge Visitor Center)
Thursday - Sunday, June 21 - October 13, 2014
2:30 p.m.
Join a Ranger for a 20 minute program at the benches by the North Bridge. Learn about the opening battle of the American Revolution, which occurred here on April 19, 1775, and the powerful legacy of this event in American history.
---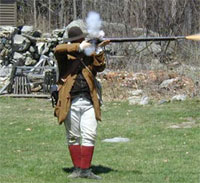 HARTWELL TAVERN RANGER PROGRAMS
Who Were the Minute Men?
Join a costumed Ranger at the Hartwell Tavern for a 20-minute program about America's first soldiers. This program includes a musket firing demonstration. People with hearing impairments or hearing aids should exercise caution.
Daily, June 21 - October 13, 2014
Program times: 11:15 a.m., 12:15, 2:15 and 3:15 p.m.
Please note: Flintlock muskets do not function well in the rain. If you are visiting on a rainy day, please inquire at Minute Man Visitor Center (781) 674 - 1920 whether or not the program will be taking place.
Muster with the Militia
ll Aspiring Heroes Brave and Bold! Have you ever wondered what it was like to train for battle in 1775? Participate in a militia drill with wooden muskets. You will be challenged to master REAL battle drill formations from 1775. Great fun for everyone in your family! (The militia drill is limited to 30 participants.) At Hartwell Tavern. 20 minutes. FREE
Daily, June 21 - October 13, 2014
Program Times: Monday - Friday, 10:30 a.m.
Saturday and Sunday, 10:30 a.m. and 1:30 p.m.
---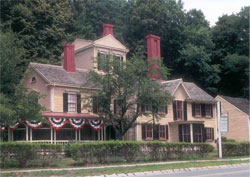 Wayside Programs
The Wayside: Home of Authors will remain closed through 2014 for renovation. In the meantime, we invite you to enjoy these Wayside themed, one-hour, ranger-guided programs.

Celebrating Nathaniel Hawthorne: Hawthorne's Neighborhood
Join a park ranger to walk the neighborhood where Hawthorne, the Alcotts, Emerson, Thoreau, and others lived and worked. Get a view of these authors and their families as neighbors and friends. (About 1 hour. Wear comfortable shoes for this half-mile walk). FREE
Sunday, June 8, August 3, September 7 and October 12
4:00 p.m.
Celebrating Nathaniel Hawthorne: The Hawthorne Family Making The Wayside Home
Celebrate the life and work of Nathaniel Hawthorne at The Wayside in Minute man National historical Park. The author lived here with his wife Sophia Peabody Hawthorne and their three children from 1852 - 1853 and 1860 - 1864. Park Ranger Michelle Blees will be on site to share photos and exhibits about how the Hawthornes made the house a home and about the restoration effort underway today. (Due to renovations, the talk will occur outside near the house). FREE
Sunday, July 13: 12:00 - 2:30 p.m.
Sunday, August 24: 3:30 - 5:00 p.m.
---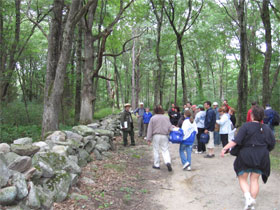 BATTLE ROAD TRAIL WALKS

Saturday, May 31 and October 11
Join a park ranger for a 3 1/2 hour guided walk along the historic Battle Road Trail. Learn about the events of April 19, 1775, landscape changes through time, and the American Revolution through the perspective of the Concord Authors. Bring plenty of water! For more information, click on the schedule of events link.
Tour will meet at Minute Man Visitor Center and shuttle to Meriam's Corner
Program Time: 12:30 p.m.
Please note: If raining, please inquire at Minute Man Visitor Center (781) 674 - 1920 whether or not the walk is still taking place.
---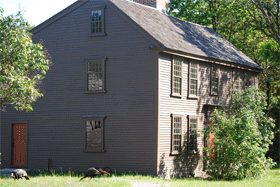 If These Walls Could Speak
Join Park Ranger Polly Kienle and trace how Jacob Whittemore's family grew and changed, using original documents and their former home. The program is held at the park's only "witness house" in Lexington, which has undergone an unusual renovation you won't want to miss. What you find may surprise you! 45 minutes. FREE

Meet at Minute Man Visitor Center (then walk to Whittemore House)
Sunday, June 29, July 20, August 31, September 28, and October 19
3:00 p.m.
---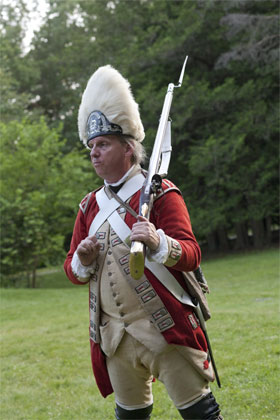 The British Redcoat
Far from home, the British Redcoat of 1775 was faced with declining budgets, duplicitous fatives, and a divided people back home. His task was to keep the peace and stop and insurgency from breaking out. Join Park Ranger Roger Fuller, dressed as a British Redcoat, to explore the experience of the British soldier of 1775. FREE
Minute Man Visitor Center
Sunday, May 25, June 15, July 6, August 10, September 21, October 5 and 26
1:00 and 3:00 p.m.
Amos Doolittle - Combat Artist
In the aftermath of April 19, 1775, Amos Doolittle, a soldier from Connecticut, created images of the event to record these scenes for posterity. Join Park Ranger Roger Fuller for a fifty-minute walking tour of the Concord combat area through the eyes of Amos Doolittle. The tour will gather in Concord center at the base of Concord's Old Hill Burying Ground, located next to St. Bernard's Church, and conclude at North Bridge. FREE
Old Hill Burying Ground next to St. Bernard's Church
Sunday, April 27, June 22, and October 18
2:00 p.m.
---