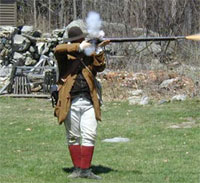 HARTWELL TAVERN RANGER PROGRAMS
"Muster the Minute Men!" Ranger-led activity and musket firing demonstration: Join a costumed park ranger and learn about the Massachusetts militia and minute men at the start of the American Revolution. Participate in a militia muster and drill with wooden muskets. You will be challenged to master REAL battle formations from 1775. The program includes a musket firing demonstration. People with hearing impairments or hearing aids should exercise caution. 20 minutes - FREE
Wednesday - Sunday, June 21 - August 13, 2015
Monday and Saturday, August 16 - October 31, 2015
Program Times: 10:15 a.m., 12:15, 2:15 and 3:15 p.m.
Please note: Flintlock muskets do not function well in the rain. If you are visiting on a rainy day, please inquire at Minute Man Visitor Center (781) 674 - 1920 whether or not the program will be taking place.
Ranger-led Battle Site Exploration: Bloody Angle
Gather at Hartwell Tavern and walk down the Battle Road Trail to the site of one of the sharpest engagements of the day. where colonial militiamen caught the British soldiers in a deadly crossfire.
Wednesday - Sunday, June 21 - August 13, 2015
Program Times: 11:15 a.m. and 1:15 p.m.
---