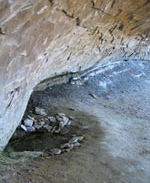 NPS PHOTO
Alcove formation is assisted by water that is absorbed into and percolates through pores in the sandstone. The water eventually reaches a layer of shale, which is much less porous, or absorbent, than the sandstone. The water cannot easily pass through the shale, and so gravity guides it along the top of this layer to the cliff face. Seep springs are found where the water emerges from the cliff face, directly above the shale layer. These seeps provided a continuous source of water for the residents of the alcoves.

The water comes in constant contact with the sandstone in these areas and dissolves the calcium carbonate that holds the sandstone together. Eventually this causes the sandstone to fall apart and crumble into individual grains of sand. The grains are washed away during rainstorms or blown away by the wind. This silt and sand was used by the Ancestral Puebloans as part of their mortar mix. A side view of the alcoves reveals that they are c-shaped. This made it necessary for the Ancestral Puebloans to backfill the floors of the alcoves to obtain a flat surface for building. The process of alcove formation continues today, which is one reason that stabilization work is an important part of the preservation efforts at Mesa Verde.
Places to view seep springs: Active seep springs are located along the trail to Spruce Tree House, on the trail to and within Balcony House, as well as in Long House.

Places to view alcoves: The largest alcoves at Mesa Verde contain cliff dwellings, and can been seen at Cliff Palace, Hemenway House, Spruce Tree House, Long House, and Step House.