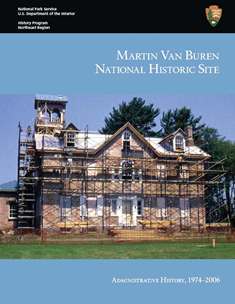 Review and Comment on Our Planning

The National Park Service has arrived at the final phase of the planning efforts for the General Management Plan for Martin Van Buren National Historic Site in Kinderhook, NY. The plan is the result of multiple years of development and valuable input from community partners and technical experts in the fields of resource protection, visitor use, partnerships and park operations.The Martin Van Buren National Historic Site GMP/EA describes and analyzes three alternatives to guide the management and development of site over the next 20 years. The alternatives, one of which is the preferred alternative, incorporate various management prescriptions to ensure protection and enjoyment of the park's resources. We believe that the preferred alternative—with its emphasis on partnerships, interpretation of the site's political and agricultural importance, enhanced visitor services, and preservation of the historic house and landscape—will best encourage stewardship pf the park over the long run.We will host two public meetings to solicit final comment on the plan on the following dates:
August 26, 2015 6 pm –7:30 pm Columbia Chamber of Commerce 1 North Front Street Hudson, NY 12534
August 27, 2015 6 pm to 7:30 pm Martin H. Glynn Municipal Building 3203 Church Street Valatie, NY 12184

You can download a copy of the plan by clicking here:
Read the GMP
**Note the file is large (77 mb) and may take some time to download
Public comments can be submitted by mail to Site Manager Justin Monetti, Martin Van Buren National Historic Site, 1013 Old Post Road, Kinderhook, NY 12106.
Comments can be submitted electronically through the National Park Service Planning, Environment and Public Comment (PEPC) website by clicking here:
Comment on the plan
The deadline for comments is
October 5, 2015
.
Discover the Park's Administrative History
To understand the history of the site, how it has been managed and the bearing the past has on current planning click here to view the park's administrative history.