Visitor Center Museum Closed During Construction Project

The museum at the Henry Hill Visitor Center is closed due to the installation of a fire protection system in the exhibit area. The visitor center and gift shop remain open daily and the park film is shown hourly. More »
Outdoor Activities
Manassas National Battlefield Park encompasses nearly 5100 acres, providing many opportunities for outdoor activities. The primary objective of the park is to preserve and interpret the history and resources associated with the two major Civil War battles fought here. The park offers many outdoor activities for those interested in the park's military history- including ranger tours and hikes (offered seasonally), a twenty mile self-guided driving tour, as well as hiking and bridle trails that visit key areas of the battlefield.
For those interested in the park's natural resources, opportunities abound for birding, fishing, and wildlife-watching. Habitats include mature forests, open grasslands, meadows, and freshwater creeks and ponds. Such diverse habitats offer opportunities to observe a broad variety of plants and animals.
Because of the historic nature of the battlefield, the following recreational activities are prohibited: kite flying, ball games, sunbathing, and frisbee.
Did You Know?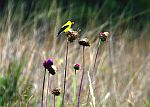 Manassas National Battlefield Park has been recognized by the National Audubon Society as an Important Bird Area. The park is home to over 160 species of birds, half of which are migratory.