Delayed Opening

Due to inclement weather and hazardous driving conditions, the park and all its facilities will open at 10:00am today, February 14, 2014.
Firestation No 6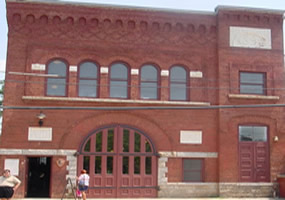 Fire Station No. 6 was built in 1894 and served the "Sweet" Auburn community until 1991. Hear about the desegregation of the Atlanta Fire Department and view a 1927 American LaFrance fire engine at the museum. The Eastern National Bookstore is also located here.
Click on the appropriate link for a brief history of the Fire Station and/or current plans for establishing a Fire Museum (PDF- 18,229kb).
Did You Know?

Mama King (Alberta) was playing the organ in 1974 when a young Black man named Marcus Wayne Chennault stood up and opened fire. He killed Mama King and a Deacon and wounded two other Deacons. He was sentenced to life in prison and died in 1988. No reason was ever given for why he killed Mrs. King.