Birth Home Tours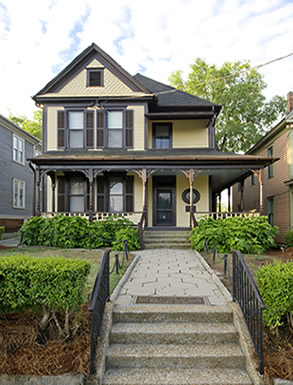 Gary Tarleton, NPS, HFC
Birth Home Tour

The only guided tour is of Dr. King's Birth Home. All other facilities such as Ebenezer Baptist Church, Dr. King's Gravesite, Freedom Hall, Fire Station No. 6, and the Visitor Center are self-guided.

Martin Luther King, Jr. was born January 15, 1929 at 501 Auburn Avenue, the home of his maternal grandparents. For the next twelve years he lived here with his grandparents, parents, siblings, other family members and boarders.
Visiting the home where Dr. King was born and lived the first twelve years of his life is often the highlight of ones visit to the national historic site. Unfortunately trying to visit the Birth Home can also be the biggest let down if you can't get on a tour. By following the instructions below and with a little luck you may get on a tour of the home on your first visit to the site.
The ranger led tour is free and lasts approximately 30 minutes during which time you will learn about the life of a young M. L. King. The home is open for tours on a daily basis, except Thanksgiving, Christmas and New Year's Day, with the first tour at 10:00 am and the last tour at 4:00 or 4:30 p.m., dependent upon staffing. Tours are limited to 15 people.
The tours are filled on a first-come, first-served basis on the day of the tour. No advanced registration or phone reservations are accepted. Upon arriving at the national historic site you should first proceed to the information desk located inside of the visitor center to sign up for a tour. Before signing up for your tour you will be advised as to when the time of the next available tour. You may sign-up for that tour or any later tour that may be open. If there is an available tour you will be issued tickets and instructed on where to meet the park ranger conducting the tour. Once you are signed up feel free to visit the rest of the national historic site while waiting for your tour.
Groups (school, family reunion, youth, etc.) are limited to signing up for only 3 tour times per day for a total of 45 people. After signing up a group, the group leader is responsible dividing up the group and seeing that the people arrive for their tour on time.
Birth Home Tickets
In order to preserve the Birth Home to ensure that it is available to future generations, visitation is limited. A timed and dated ticket system is in place, which frees visitors from waiting in line and allows them to see more of the National Historic Site.
Who needs a ticket?

All visitors who want a tour of Dr. King's Birth Home MUST have a ticket.
How much are the tickets?

Tickets are FREE.
How often are the tours?

There are typically five to six tours of Dr. King's Birth Home throughout the day from 10:00am to 4:00pm.
Can I make reservations?

No, all tickets are issued on first come, first served basis the day of the tour.
Where do I get a ticket?

Visitors may pick up tickets at the Information Desk inside the Visitor Center.
Are exceptions made for large groups?

No. Tickets are always issued on first come, first served basis. However, group leaders may get up to 45 tickets (3 tours) on the day of the tour.
Tips on Visiting the Birth Home
Visit early in the day.

Be prepared to wait several hours for the next available tour.

Visit early in the week or Sunday morning.
Did You Know?

Mama King (Alberta) was playing the organ in 1974 when a young Black man named Marcus Wayne Chennault stood up and opened fire. He killed Mama King and a Deacon and wounded two other Deacons. He was sentenced to life in prison and died in 1988. No reason was ever given for why he killed Mrs. King.