Photos & Multimedia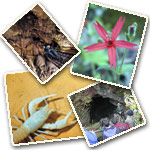 Sometimes written words fail us when we try to describe the great Mammoth Cave. Sometimes the story is better told through pictures, or the sounds of a vanished age, or animation that makes simple a difficult idea. On these pages, we will be offering new sights and sounds of Mammoth Cave National Park.
But remember – as exciting as some of these pages may be, there's no substitute for being here. So explore these links and let yourself become inspired to make a greater exploration, in person, in the grand and gloomy chambers of the world's longest cave.


Did You Know?

Stalactites grow downward – they hang "tight" to the ceiling – while stalagmites grow upward – they "might" reach the ceiling someday. Mammoth Cave's formations include many types of calcite formations.