Winter Sports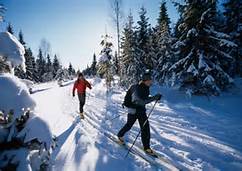 Winter Sports
Back country skiing and snowshoeing
Back country skiing and snowshoeing are popular winter activities in the park. In Woodstock the average winter snow fall is 80 inches. Winter is Vermont's longest season and temperatures in winter vary more than those in summer. It is common to experience freezing temperatures from November to March, with many locations observing sub-zero days on a regular basis so please come prepared for cold weather. The the trails are generally in good condition for skiing (although not groomed) between January and March . Please call the park (802-457-3368 x22) for information about current conditions.
Those skiing or snowshoeing must be self-sufficient and confident in their abilities as there is no regular ski patrol in the park. The trails in the National Park are not groomed, but the nearby Woodstock Inn and Resort Nordic Center (888) 338-2745 trails are groomed.
Ten essentials for skiing or snowshoeing on back country trails
1. Navigation (map and compass)
2. Sun protection (sunglasses and sunscreen)
3. Insulation (extra clothing)
4. Illumination (headlamp, flashlight, bulb and batteries)
5. First-aid kit (with warming packs)
6. Fire (Waterproof matches and fire starters)
7. Repair kit and tools (including knife or multi-tool)
8. Nutrition (extra food)
9. Hydration (extra water)
10. Emergency shelter.
(Backcountry Trail Patrol Association)

It is also a good idea to carry a cell phone to call 911 in case of emergency.

Did You Know?

Marsh-Billings-Rockefeller NHP offers day hikers nearly 20 miles of carriage roads and trails. Located about a mile from the park, hikers can easily access one of the nation's premier foot trails, the Appalachian National Scenic Trail, which extends over 2000 miles from Maine to Georgia.