Starting Wednesday July 23rd Expect Road Closures

July 23rd, Prosper Trail, North Slope & Middle Pass Trails - west side of the park CLOSED for forestry operations. McKenzie Farm Trail & McKenzie Rd will remain open for access between Prosper Parking Lot and the Pogue. CAUTION Heavy Equipment in use!
Operating Hours & Seasons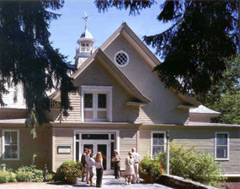 Jim Westphalen
The Carriage Barn Visitor Center is open daily from 10:00 am to 5:00 pm, Memorial Day weekend (late May) to October 31. Guided tours of the Mansion and grounds are offered during this time.
The Billings Farm & Museum is open daily from 10:00 am to 5:00 pm, April 30th through October 31st.
The park's 20 miles of trails and carriage roads are open year-round. They are available for hiking and equestrian use in the spring, summer, and fall. When winter snows arrive, they are used only for cross-country skiing and snowshoeing (ungroomed).

Did You Know?

Conservationist George Perkins Marsh, for whom Marsh-Billings-Rockefeller NHP is named, championed the creation of a US Army Camel Corps. On El Morro National Monument's Inscription Trail you can see the inscriptions the Camel Corps left behind in 1855.