NOTICE: To refresh your browser, please hit F5
New! Road clearing operations will begin Monday March 30, 2015
Current Road Status - Spring 2015
Road Section

Status

Detail

Lassen National Park Highway


Partially OPEN

Anticipated complete opening - late April

Open to the Devastated Area, 10 miles inside the park's northwest entrance

Vehicles can enter the park off of Hwy 44 at the Manzanita Lake entrance, and off of Hwy 36 to the southwest entrance. The road travels north/south and is a 30-mile long paved road through the park. Theroad is not recommended for vehicles longer than 45 feet in total length. The road winds through mountainous terrain. Watch for wildlife crossing the road and falling rocks. The road can close intermittenly with inclement weather.



Butte Lake

OPEN

The road is gravel, is 6 miles in length and begins off of Hwy. 44


Warner Valley (access to Drakesbad Guest Ranch)


CLOSED

Road is not recommended for RVs or trailers. It is 17 miles in length and begins off of Hwy 36 in Chester. The last 3 miles is dirt.

Juniper Lake

CLOSED

Anticipated opening - early May

Road is not advised for RV's, trailers or vehicles with very low clearance. The road is 13 miles with a rough dirt surface. It begins off of Hwy 36 in Chester. Forest Service road is clear to park boundary.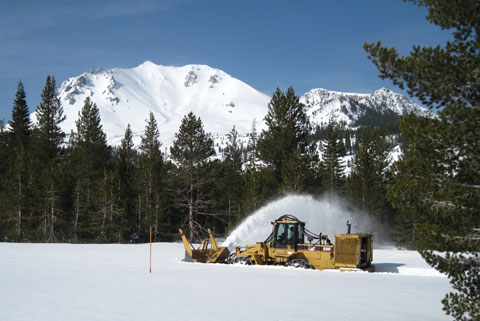 NPS Photo
2014 Snow Clearing Operator Log
April 25
Mother Nature has delivered a surprise spring snowstorm overnight. At the Kohm Yah-mah-nee Visitor Center, approximately 8 inches of new snow fell, and the road remains closed at the Visitor Center.
Currently, the park road at the northwest entrance is closed at the Loomis Ranger Station, 1 mile inside the park. Our plows will need to re-clear the roadway to the Devastated Area (10 miles), and it may be several days for the road to reopen to traffic. Road clearing operations will resume April 28th.
Despite this small setback, the main park road is expected to open before Memorial Day weekend, weather permitting. As the snow disappears, visitors interested in traveling the main park road by foot or bicycle should expect significant rock rubble and icy patches on the road surface. You may call the Visitor Center at 530-595-4480 for updated conditions.
April 11
With low snow depths and additional help from Cal-trans, road clearing has commenced rather quick. Clearing operations began from Manzanita Lake on March 24 with an opening to Devastated Area shortly after. Road clearing beyond Devastated Area is continuing and plows have reached Kings Creek. From the southwest entrance, road clearing began April 2, after a storm brought 3 feet of much needed fresh snow. In just a week's time, plows have reached Lake Helen; the 10 to 12 feet of snow there will slow the plows somewhat. There is not yet an anticipated road opening date; many more preparations will need to be accomplished prior to road opening.
If you will be walking or bike riding the plowed sections, plese keep in mind a few safety notes:
Watch for plow operators, make sure they see you before approaching
Watch for falling rocks; as snow melts from the slopes, rocks come loose and tumble nto the road.
Stay clear of berms created by the plows, they can be unstable.
Ice on the cleared road can be present especially in the morning.
April 3
Road opening started smooth from the southwest entrance. We have begun with two dozers, working to push the snow off to the sides in order to get the depth down to a working level for the blower. This year, Cal-Trans will help us with their more powerful blowers. Good progress was made in the last two days; about 2.5 miles of one-lane road has been cleared, however not yet open for traffic. It will be several weeks before the entire road is cleared and safe for vehicle traffic. Also, April storms can create delays in progress. Stay tuned for weekly updates.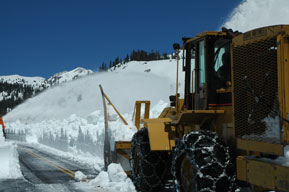 NPS Photo
Road Opening Process
The entire park road will open once the interior section between Bumpass Hell and Devastated Area is cleared, rock falls are cleared, and all lingering ice is melted. The road opening process may be delayed by late snow storms as well as other factors including:
Heavy snow pack with deeper snowdrifts in some areas slows the whole operation.
Trees that have fallen across the road and been buried in the snow. These can cause substantial damage to the equipment and result in a stop to all operations.
Rock slides over the road when the snow begins to melt.
Snow avalanches over cleared sections of the road.
Snow storms during the operations impede progress.
Lingering ice once snow is cleared.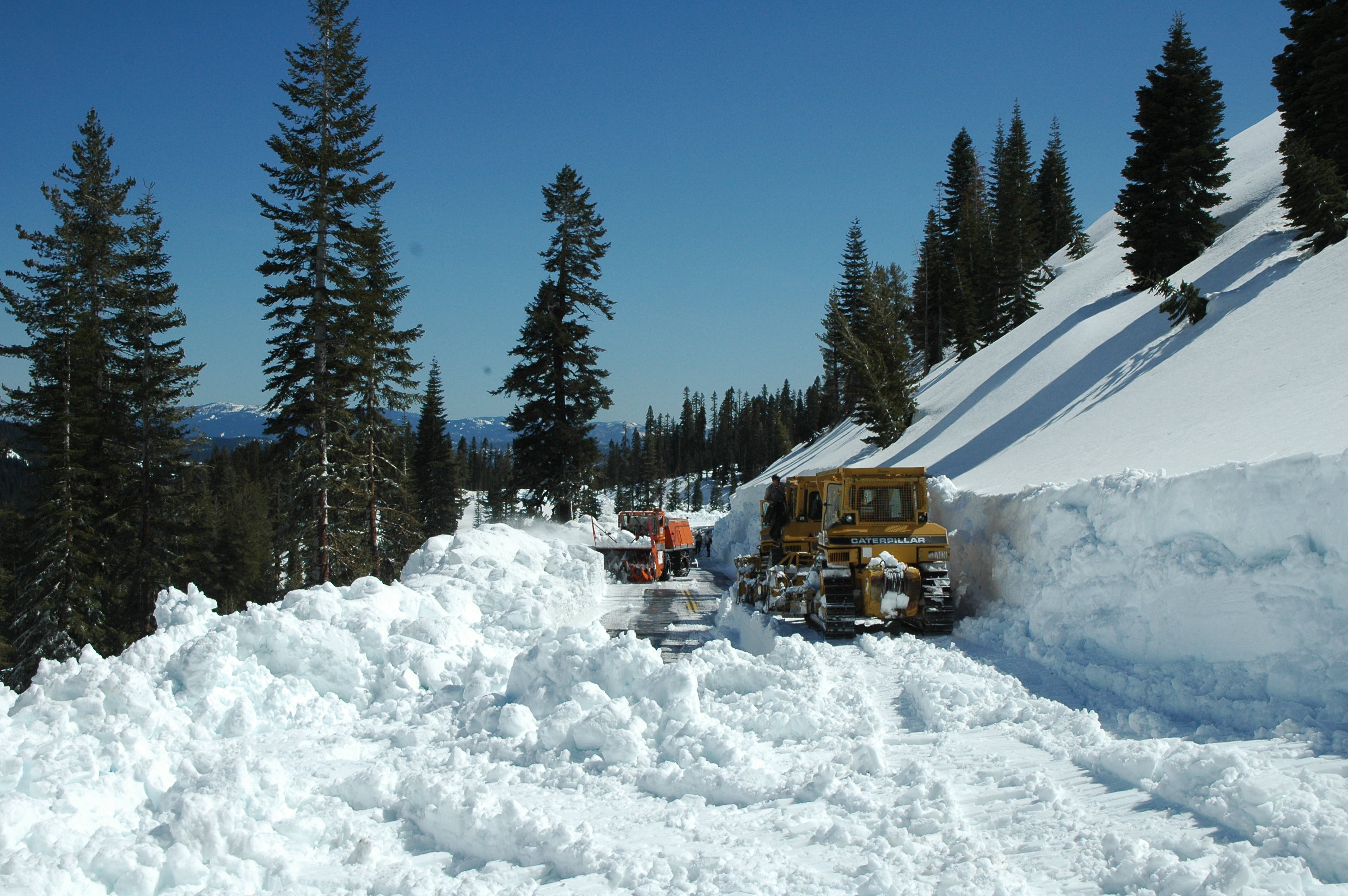 NPS Photo
Why does the road close in winter and when will it re-open for summer?
The main park road encompasses 30 miles of stunning views through twisty hair pin corners, high elevations and steep grades. To attempt road clearing throughout winter would be impossible and extremely hazardous for plow operators and drivers. The park road hugs mountain sides and 2000 foot drops. Not to mention the snow loads often reaching 40 feet of accumulation throughout a winter. With the park's high elevation and exposed passes, ice and blowing snow would be a constant issue. The road is in direct avalanche paths as well. Trying to outwit nature has not proved worthwhile.

Clearing of the main park road (30 miles total), begins in April and on average takes 2 months before the road opens through. Predicting when the road will open is not possible, even in late spring, because weather in April and even May can affect plowing progress significantly. See chart below for opening and closing dates since 1980.
Spring Road Opening Dates - 1980 to present
| | | | |
| --- | --- | --- | --- |
| Year | Date plowing began from southwest | Date road opened | Date road closed |
| 1980 | April 20 | May 29 | November 21 |
| 1981 | April 20 | May 21 | November 3 |
| 1982 | April 19 | June 18 | October 25 |
| 1983 | April 18 | July 2 | November 10 |
| 1984 | April 23 | June 4 | October 28 |
| 1985 | April 14 | May 18 | October 21 |
| 1986 | April 7 | June 7 | November 24 |
| 1987 | April 20 | May 15 | November 13 |
| 1988 | April 2 | May 20 | November 7 |
| 1989 | April 3 | June 6 | October 23 |
| 1990 | April 1 | April 28 | November 14 |
| 1991 | April 7 | May 24 | October 22 |
| 1992 | April 6 | May 14 | October 29 |
| 1993 | April 12 | June 28 | November 10 |
| 1994 | April 3 | May 20 | November 7 |
| 1995 | March 19 | July 21 | November 21 |
| 1996 | April 1 | June 12 | October 18 |
| 1997 | April 7 | June 5 | November 14 |
| 1998 | April 5 | July 12 | November 10 |
| 1999 | April 12 | June 11 | November 19 |
| 2000 | April 3 | June 2 | November 17 |
| 2001 | April 2 | May 10 | November 15 |
| 2002 | April 1 | May 22 | November 13 |
| 2003 | March 26 | May 23 | November 7 |
| 2004 | March 11 | May 27 | October 28 |
| 2005 | April 4 | June 2 | November 8 |
| 2006 | April 3 | July 6 | November 11 |
| 2007 | April 2 | May 18 | December 6 |
| 2008 | March 31 | May 18 | December 12 |
| 2009 | April 13 | June 4 | November 18 |
| 2010 | April 19 | July 8 | October 23 |
| 2011 | April 19 | July 16 | November 22 |
| 2012 | April 21 | June 1 | November 19 |
| 2013 | March 21 | May 24 | December 18 |
| 2014 | April 3 | May 19 | |