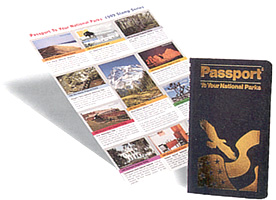 America's natural treasures-our National Parks-are presented in one handy booklet with the Passport To Your National Parks program. This 104-page travelogue includes color-coded maps, pre-visit information, illustrations and photographs. It includes a list of every national park area in the United States. Spaces allow you to collect the series of commemorative Passport stamps issued each year.
To purchase an official passport, please visit the Lassen Association bookstores at the Loomis Museum or Kohm Yah-mah-nee Visitor Center, or purchase on-line at www.eparks.com
Stamps for the National Park Service passport are available in the following locations:
Kohm Yah-mah-nee Visitor Center
Available during visitor center hours in the Lassen Association bookstore.
Loomis Museum
Available in the summer season during museum hours.