NPS Photo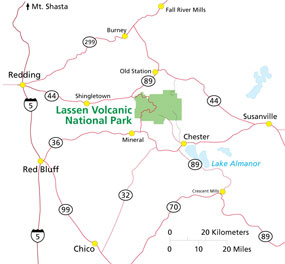 Accommodations in and Around the Park
Campsites and camping cabins are the primary form of accommodation at Lassen Volcanic National Park. Drakesbad Guest Ranch in Warner Valley offers the only lodging within the park.

The following businesses offer accommodations within a 60 mile radius of the park. Please direct all inquiries to the individual businesses. For additional information about an area, contact the local Chamber of Commerce.

Please contact the individual business for the most current information.
Download the park lodging handout (pdf, 756 KB)

Chambers of Commerce
If your business is within a 60 miles radius of the park and you would like it included on this web page and Lassen's lodging handout, please email lavo_information@nps.gov with the information above.