Warner Valley Road Work

There will be paving work on the road connecting Chester to the Warner Valley beginning Monday July 21 or Tuesday July 22 and continuing through July. There may be a 30 min. delay for visitors travelling to Warner Valley and Drakesbad.
Hiking Mount Harkness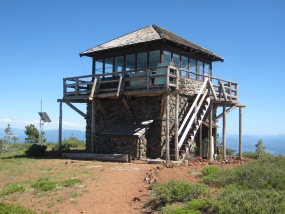 Start: Parking area on the north side of the Juniper Lake Ranger Station on the road into the campground.
Round Trip Distance: 3.8 miles
Round Trip Time: 3 hours
Elevation: 6,800 ft - 8,046 ft
Elevation Change: 1,250 ft
This excellent trail climbs though forest and open woodland to an active fire lookout. The hike begins in red fir forest and climbs an ancient shield volcano. The trail switchbacks and gradually steepens before opening up to the first open woodland carpeted in silver leaf lupine. The trail then passes again through thick forest before abruptly ending at the edge of a second open slope. After traversing this slope, the trail switchbacks through jumbled rocks into another mountain meadow where hikers are afforded their first views of Lassen Peak. At 1.7 miles the trail splits with the trail to Warner Valley and the Juniper Lake outlet on the right. Take a left here to continue to the peak of Harkness. This last section of the trail switchbacks up a cinder cone volcano that formed on top of the shield volcano. In the summer crickets thrive on this large open slope. Hikers can feel the grasshoppers dance at their feet with each step, and witness the Clark's Nutcrakers in a joyous feeding frenzy. Once on the top of the slope, the trail continues along the edge of the cinder cone crater to the base of the lookout. The fire lookout is staffed in summer months and hikers are welcome to visit the lookout, experience its magnificent views and learn about fire monitoring in the park. The peak itself offers superb panoramic views of the entire park and the surrounding area. On clear days one can see as far as Nevada to the east, the Coast Range to the west and the Three Sisters to the north.
The parking area for the Mount Harkness Trail is located on the north side of the Juniper Lake Ranger Station. Follow the road to the campground to the sign for Mount Harkness Trail parking. Walk the road into the campground and bear left to the trailhead. There is no potable water in the Juniper Lake Area.


Did You Know?

The Lassen Volcanic National Park Main Park Road can open as early as May 10th and as late as mid-July depending on how much snow falls during the winter.