Warner Valley Road Work

There will be paving work on the road connecting Chester to the Warner Valley beginning Monday July 21 or Tuesday July 22 and continuing through July. There may be a 30 min. delay for visitors travelling to Warner Valley and Drakesbad.
Hiking Cold Boiling and Crumbaugh Lakes Trails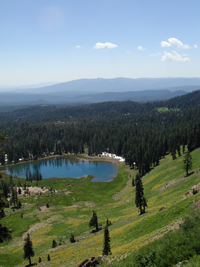 Start: Kings Creek Picnic Area
Distance: Cold Boiling Lake, 0.8 mile; Crumbaugh Lake, 1.3; Mill Creek Falls, 3.0; Southwest Campground 4.6; all distances one way.
Time: Cold Boiling Lake, 3/4 hour; Crumbaugh Lake 1 1/2 hours; Southwest Campground, 4 hours; all times are one way.
Terrain: mostly flat to Crumbaugh Lake, then downhill 800 feet to Mill Creek Falls, then uphill 250 feet to campground
Elevation: 7400 feet start
Alternate Route: An alternate route would be to head towards Bumpass Hell from Cold Boiling Lake and arrange for transportation at the Bumpass Hell parking lot. This trip is 2.5 miles one way with a steady 750 foot incline. Allow 3 hours including a 30 minute stop at the Bumpass Hell boardwalk.
The trail is fairly level to Cold Boiling Lake, and then descends to Crumbaugh Lake. The trail becomes flat and passes through several meadows at the base of Mt. Conard. The trail then descends a steep grade to Mill Creek Falls. From Mill Creek Falls the trail follows a steady incline to the Southwest Campground. A one way trip to the campground, arranging for transportation at the lower end, makes an ideal, easy, half-day hike.
This little-traveled area is excellent for birds, wildflowers, and deer. The meadow along the shore of Crumbaugh Lake has a variety of wildflowers and the meadows past Crumbaugh Lake are ideal for wildlife viewing.
Cold Boiling Lake is so named because gas bubbles are continually rising at some points near the shore. (see video below)


Did You Know?

Brokeoff Mountain, seen here in Lassen Volcanic National Park, was once part of a much larger composite volcano, called Brokeoff Volcano, that towered 1000 feet above Lassen Peak and looked similar to Mount Shasta.