Road through the park is closed

Park highway (HWY 89) is currently being cleared of snow, debris, and rocks. Anticipated opening for Memorial Weekend. More »
Park highway under construction near Sulphur Works

Road crews are working to repair the road near Sulphur Works hydrothermal area. Road will be closed at the Kohm Yah-mah-nee Visitor Center during the week, and open to Sulphur Works on the weekends.
Hiking Mill Creek Falls Trail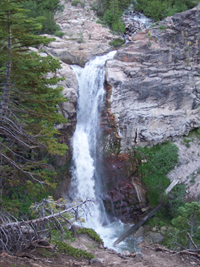 Start: Southwest parking area. To find the trailhead, follow the sidewalk from front of southwest campground bathrooms to the back end of the parking area.
Round Trip Distance: 4.6 miles
Round Trip Time: 2 - 2.5 hours
Terrain: Downhill about 300 feet
Elevation: 6700 feet
Download the Mill Creek Falls trail map
Mill Creek Falls Trail Guide - Printing version | Viewing version

Mill Creek Falls is the highest waterfall in the park with a drop of 75 feet. It is at the junction of East Sulphur and Bumpass creeks. Because of the surrounding forest and rugged terrain there are only two or three points from which it can be photographed.
The trail descends to the crossing of West Sulphur Creek, crosses an open hillside (see photo in gallery) and follows through forested areas to the falls. Deer are likely to be seen as well as a variety of birds. Mulesears is the common wildflower that covers the open hillside and usually is in full bloom by July. Many other wildflowers, including the blue and white stickseed, can be seen. There are good views of Brokeoff Mountain and Mt. Diller.
The trail continues beyond the crossing of East Sulphur and Bumpass Creeks, past Crumbaugh Lake, and on to the Kings Creek Picnic Area (a steep 750 ft climb, see Cold Boiling and Crumbaugh Lakes trail).
Snow is likely to be found in places along the trail until mid-July.


Did You Know?

The Lassen Volcanic National Park Main Park Road can open as early as May 10th and as late as mid-July depending on how much snow falls during the winter.