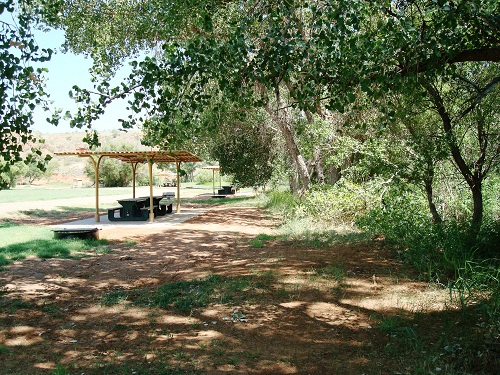 NPS Photo
Lake Meredith offers a variety of camping opportunities, including scenic overlooks, shoreline camping, and wooded campgrounds. All campgrounds are FREE. No reservations are needed; sites are on a first-come, first-served basis.
Trailer/RV hookups and showers are NOT available anywhere at Lake Meredith. Dump stations with potable water are located near Fritch Fortress and Sanford-Yake campgrounds.
You may camp at any location within Lake Meredith National Recreation Area for up to 14 consecutive days within a 30-day period, but no more than 60 days per year. Hunters may set up camp between October 1 and December 31, with up to 30 days allowed annually per hunter. Digging or leveling the ground for a camp is prohibited.
CAMPFIRES: Fires are permitted only in grills and existing fire rings; they are not allowed in the backcountry. You may gather wood that is dead and on the ground. No cutting of trees or other plants is allowed. Burning pallets with nails/hardware in them is prohibited unless the hazards are removed before burning. Local counties determine fire bans. Contact officials in Hutchinson County (806-273-0930), Moore County (806-935-2151), and Potter County (806-379-2900) to verify if burn bans are in effect.
ALCOHOL: The possession and consumption of alcohol is prohibited at Cedar Canyon and Spring Canyon (day camp area) only. In other areas, you may bring in alcohol for personal consumption. If you wish to bring in larger quantities (such as beer kegs for a group), you must get a special use permit at Park Headquarters, 419 E. Broadway, in Fritch, during business hours.
OTHER RESTRICTIONS:
Pets must be on leash at all times.
Quiet hours are from 10 p.m. to 6 a.m.
Place trash in dumpsters or carry it out for disposal.
Only drain "gray water" from trailers or boats at designated dump stations (near Fritch Fortress and Sanford-Yake Campgrounds).
No metal detectors are allowed.