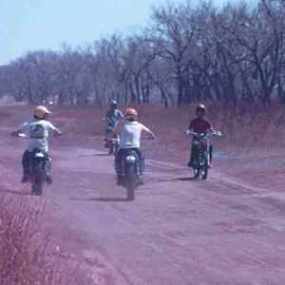 NPS Photo
Blue Creek and Rosita Flats [map] were set aside for all-terrain vehicle recreation. Riders must stay within the cutbanks of Blue Creek and Rosita and below 3000 ft. elevation. All riders must wear a DOT approved safety helmet and eye protection. Please review the Lake Meredith ORV brochure.
An ORV decal is required and can be purchased from participating retailers or by calling the Texas Parks & Wildlife Customer Service Center at (512)389-8917. For more information visit Texas Parks & Wildlife.
ORV Vehicle permits can be obtained by completing this application.
BLUE CREEK BRIDGE
Off-road vehicle area on northwest side of lake on FM 1913.

Picnic tables, grills
Vault-evaporator toilet
Off-road use in creek bed ONLY
NO flush toilets or drinking water

ROSITA
Off-road vehicle area on Canadian River with access from Highway 87/287.

Undeveloped campground
NO picnic tables
NO toilets or drinking water