Important Notice to Mariners

Lake Mead water elevations will be declining throughout the summer. Before launching, check lake levels, launch ramp conditions, changes to Aids to Navigation and weather conditions by clicking on More »
Goldstrike Canyon, Arizona Hot Spring Trails Temporarily Closed

A temporary emergency closure is in place for Goldstrike Canyon and Arizona Hot Spring trails within Lake Mead National Recreation Area, beginning Aug. 1. This closure includes National Park Service and Bureau of Reclamation lands. More »
Summer Fire Rules in Effect

Lake Mead NRA is now enforcing summer fire restrictions. Please click 'more' to learn about the rules for fire during our hot, dry season. More »
Lodging
Not a camper? There are several hotel/motels in the park for you. Each location is run by an official park concessioner.
---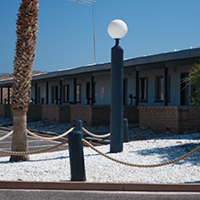 Temple Bar Marina Resort
(928) 767-3211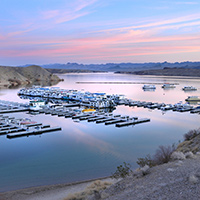 Cottonwood Cove Resort & Marina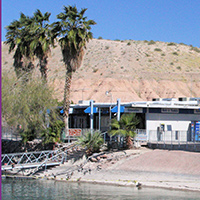 Lake Mohave Resort at Katherine Landing
Did You Know?

Today you can walk or bicycle along the elevated railroad bed used to haul supplies and materials for the construction of Hoover Dam and enjoy the spectacular views of Lake Mead and the surrounding desert landscape. More...