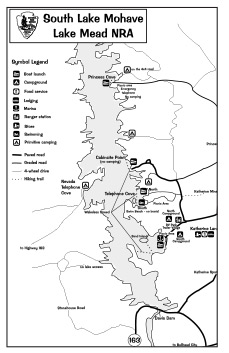 Both narrow and shallow compared to Lake Mead, Lake Mohave lies between the Black Mountains to the east in northwestern Arizona, and the Eldorado and Newberry Mountains to the west in southern Nevada. Most of the lake's length lies within the steep, narrow walls of Black, Eldorado, Painted, and Pyramid canyons. The northern section of the reservoir is constrained by the steep rock walls of Black Canyon for a length of 22 miles and is narrower than 300 ft in places. This portion of the reservoir is primarily riverine. South of Black Canyon, Lake Mohave gradually widens to nearly four miles in Cottonwood Basin. The transition between river and true reservoir conditions occurs in Eldorado Canyon, between Black Canyon and Cottonwood Basin.
(Click Here for the map at left)
In the summer, a sharp convergence zone develops in Eldorado Canyon as the cold, nutrient-rich river water flows under the warmer lake water. Mixing at the interface promotes high phytoplankton productivity resulting in a marked change in water clarity in Eldorado Canyon. The reservoir has a long north-south fetch and is subject to high winds and resulting large waves from the predominantly south/southwest summer winds and north/northeast winter winds. Small coves are formed in some areas of the basins by inundated desert washes, which are a major source of shoreline alluvial deposits that periodically are washed into the reservoir.
Davis Dam is located within a narrow gorge cut into Precambrian igneous rock in Pyramid Canyon at the south end of the reservoir. At 647-foot elevation, the Lake Mohave has a total storage capacity of 1,818,300 acre-ft, a maximum depth of approximately 100 ft, and just over 28,000 surface acres with roughly half of the lake found in Arizona and half in Nevada.
With the completion of Hoover Dam and Davis Dam, historic riverine temperature and flow cycles were no longer in place. Hoover Dam discharges cold water from the bottom of Lake Mead, Lake Mohave's only significant inflow. As a result, water temperatures within Black Canyon are a constant cold 53° Farenheit (12-13°C), and the shade provided by the steep walls of the canyon helps to maintain the steady low temperatures throughout the year. The change in temperature cycling and modifications to the physical features of the area brought about by damming the Colorado River in the area of Lake Mohave resulted in habitat loss for aquatic insects, which are now no longer present. Also directly and indirectly imperiled were the razorback sucker and bonytail chub, two federally listed endangered fish species for which Lake Mohave provides critical habitat. The razorback sucker population has most recently been estimated at less than 5,000 fish, which is a significant decline from previous estimates of 60,000 in the late 1980s. Once abundant throughout the Colorado River basin, Lake Mohave now contains the largest remaining population of razorback suckers. The bonytail chub presently exists in low numbers in Lake Mohave.