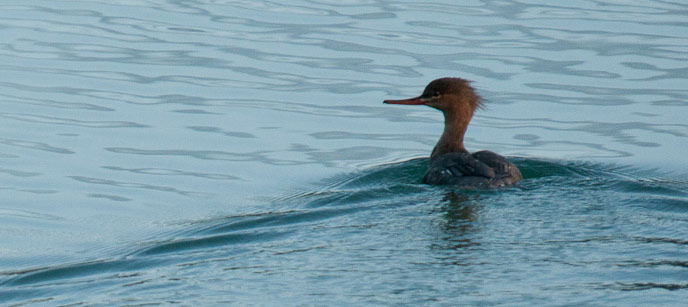 NPS Photo / Kent Miller
When it comes to feathered friends, Lake Clark has it all - types of birds found in the park include raptors, waterfowl, seabirds, shorebirds, and songbirds. Check out a bird checklist and learn more about bird watching in the park.

Raptors
Raptors, including bald and golden eagles, northern goshawks, sharp-shinned hawks, northern harriers and merlins, breed in the Lake Clark area. About 50 pairs of bald eagles and 5-10 pairs of golden eagles are known to nest in the park and preserve. Two pairs of osprey also nest in the preserve. Once-endangered peregrine falcons occupy eyries on cliffs along interior lakes and rivers, and at Tuxedni Bay.


Waterfowl, Shorebirds and Seabirds
Waterfowl nest and molt in wetlands throughout the area. Large migratory flocks of ducks, swans, and geese rest and feed in the park and preserve before flying from Nikabuna Lakes to Lake Clark through low mountain passes in the Chulitna River drainage. Sea ducks, primarily white-winged and surf scoters, are the most abundant waterfowl on the coast, numbering over 18,000 in mid-August.
The coast also provides important breeding habitat for mallards, American widgeon, Barrow's golden-eye, and red-throated loons. Migrating dabbling ducks number 3,000-4,000 in spring and fall. Diving ducks, primarily greater and lesser scaup, stage along the coast in spring. They reach peak abundance (16,400 birds) in mid-May. Other ducks include green-winged teal, northern pintail, harlequin, common golden-eye, black scoter, common eider, bufflehead, and oldsquaw.
About 30 pairs of trumpeter swans nest in the park and preserve; most breed in wetlands on the coast. Canada geese occur in Tuxedni Bay and can number about 4,400 during fall migration.
Seabird breeding colonies occur along Cook Inlet, and concentrate at Tuxedni and Chinitna Bays. Of the seven seabird colonies surveyed from 1994 to 1996, the largest contained 2,700 black-legged kittiwakes. Less numerous seabirds include horned and tufted puffins, double-crested cormorants, pelagic cormorants, glaucous-winged gulls, common murres, and pigeon guillemots.
During spring migration, 86,000 to 122,000 shorebirds, primarily western sandpipers and dunlin, use intertidal mud flats in Tuxedni and Chinitna Bays.