White-nose Syndrome and Lava Beds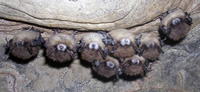 Since 2006, bats have been dying in unprecedented numbers in the eastern United States and Canada from white-nose syndrome (WNS), a fatal condition associated with exposure to the fungus Pseudogymnoascus destructans. Although humans aren't susceptible, they can potentially spread the fungus between caves, mines, and other bat roost sites. It is all of our responsibility to do what we can to prevent the spread of this devastating disease.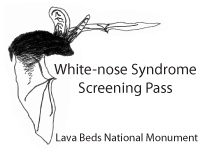 Help Us Protect Our Bats!
Lava Beds National Monument has instituted a screening procedure to help prevent the spread of white-nose syndrome to its caves. If you are planning on entering any cave within Lava Beds National Monument, please stop by the visitor center and/or screening location, complete this simple screening and obtain a "White-nose Syndrome Screening Pass." Displaying this pass in your car window will show that you have been through the screening process and that you are helping protect the bats that live here.
If you have gear that has been used in caves or mines east of the Rocky Mountains (including Canada), in Europe, or China, please leave these items at home. If you cannot leave this gear at home, decontaminate it properly.