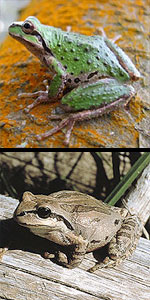 Pacific Tree Frog
Technically a member of the tree frog family, this smallest amphibian in California (up to 2 inches long) is found in many habitats, including ones with few trees. It's range includes most of the west coast, from up to 11,000' in the mountains to coastal wetlands. Like the Boreal Toad, it lives at the Lava Beds in the cooler, moist microclimates at cave entrances and under the jumble of large rocks in lava flows.
These frogs have the incredible ability to change their skin color and tone in about ten minutes, according to their surroundings. This is slower than chameleon and anole lizards can change colors, but still serves the same purpose to hide from predators. They sport a variety of colors, including brown, tan, almost white, bright green, or salmon-pink.
Pacific Tree Frogs eat just about anything smaller than themselves, primarily insects and other small invertebrates. They breed in surprisingly small pools of rainwater, and are the most commonly encountered amphibian in the park.