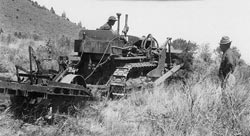 Within a few months in 1935, a 'strike camp' of army surplus tents with wood frames and floors was established on the old shoreline of Tule Lake. After two frigid winters, permanent wooden buildings finally replaced the tents. Camp Tulelake included barracks, mess halls, offices, a motor pool, and mechanical workshops.
The CCC crews were kept very busy. Different crews at Lava Beds built roads through the monument, laid the first power and telephone lines, and built a superintendent's residence and headquarters building at Indian Well (where the modern Visitor Center stands). They also built a campground (the current "A" loop of the campground) and picnic tables you can still eat at in the campground and at Fleener Chimneys. CCC boys from Camp Tulelake developed dozens of trails through the lava tube caves. They moved over ten million cubic yards of earth and debris from the caves near the Visitor Center and installed ladders and stairways – all without heavy construction equipment. In the caves, the CCC crews used picks, shovels, block-and-tackle rigs, and wheelbarrows. Occasionally, they used dynamite to widen natural openings, but the debris was removed largely by hand.
After an 8-hour workday, most CCC enrollees took classes to earn high school diplomas and improve their technical skills for future employment. Like many camps, Tulelake produced a camp newspaper that gave rare glimpses into the difficult and isolated life in the lava beds under Army command. Imagine the turmoil when 150 CCC boys showed up at a dance hall in the tiny neighboring towns!