Permits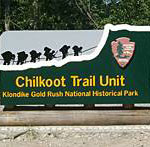 Chilkoot Trail permit fees are collected to offset the cost of trail maintenance and information services. From approximately June 1 - September 5, permits are required on the Chilkoot Trail. For off-season use, please register your itinerary with park headquarters, located at 2nd & Broadway.
2014 BACKCOUNTRY PERMIT FEES
PERMITS ARE REQUIRED TO HIKE THE CHILKOOT TRAIL FROM JUNE-SEPTEMBER
For reservations and registration information call Parks Canada: 1-867-667-3910 or toll free from Canada and the U.S. 1-800-661-0486. Please be advised that prices for trail permits change annually. Check in the spring to get prices for the upcoming summer season.
Combined US/Canadian Chilkoot Trail Trip Permit: $50.00 (CDN) per adult; $25.00 (CDN) per youth (ages 5 - 16)
US ONLY Trip Permit: $15.70 (CDN) per adult; $7.90 (CDN) per youth
Canadian ONLY Trip Permit: $34.30 (CDN) per adult; $17.10 (CDN) per youth
Canadian Day Permit: $9.80 (CDN) per person
US Day Use: no fee or permit required
Reservation fee: $11.70 (CDN) per hiker (in addition to Permit fee)

* All fees are quoted in Canadian funds and may be subject to change. All fees are payable at time of reservation or at the time permits are obtained if no advance reservation is made. Permit fees are refundable up to one calendar month prior to start date. Reservation fees are non-refundable. Those without required permits are subject to fines.

A maximum of 50 hikers a day are permitted to enter Canada over the Chilkoot Pass. Organized commercial, nonprofit and institutional groups (schools, scouts, etc.) are limited to one trip a day entering Canada over the Pass.


Border Crossing

Be prepared before crossing the international border on the Chilkoot Trail. Find out what is involved. Read More

Chilkoot Trail

What is the Chilkoot Trail? Learn about the trail's role through history, plan your own trip, or check out past and present photos. Read More

Additional Trail Information

We're part of an international park! Visit our partner at Parks Canada to learn more about the Canadian side of the Chilkoot Trail. Read More