Road to Exit Glacier Closed for the Winter

The Herman Leirer Road (also known as the road to Exit Glacier) is closed to all vehicle traffic for the 2014-2015 winter season. Please see "Current Conditions" for the latest updates. More »
Shuttle Bus/Taxi Service
These companies provide transportation between Seward and Exit Glacier. These are not guided tours, but provide access to the Exit Glacier area for travelers without a motor vehicle or bicycle, such as those arriving in Seward by train or ship.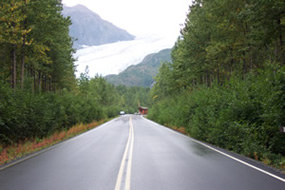 NPS Photo
Alaska Goldline Express
P.O. Box 61654 Fairbanks AK 99706
phone:(907) 474-0535
fax:(907) 479-3125
email: goldline@alaska.net
Exit Glacier Guides
P.O. Box 1812 Seward, AK 99664
phone: (907) 224-5081
email: exitglacierguides@yahoo.com
internet: www.exitglacierguides.com
Glacier Taxicab
P.O. Box 3341 Seward AK 99664
phone:(907) 224-5678
fax: (907) 224-5021
Lazer's Guide Service
HC5 Box 6877 Palmer AK 99645
phone: (907) 250-1120
fax: (907) 745-3006
email: lazertours@yahoo.com
PJS Taxi
P.O. Box 2503 Seward AK 99664
phone: (907) 224-5555
email: pjs_taxi@yahoo.com
internet: www.pjstaxi.com
Premier Alaska Tours, Inc.
1900 Premier Court Anchorage AK 99502
phone: (907) 279-0001
fax: (907) 279-0002
email: josh@touralaska.net
internet: www.premieralaskatours.com
Suntrek Tours
77 W 3rd Street Santa Rosa CA 95401
phone: (707) 523-1800
fax: (707) 523-1911
email: suntrek@suntrek.com
internet: www.suntrek.com
Trails North, INC.
P.O. Box 1909
31798 Herman Leirer Road Seward AK 99664
phone:(907) 224-3587
email: tn@trailsnorthalaska.com
internet: www.trailsnorthalaska.com
Trek America & American Adventures
P.O. Box 1338 Garena CA 90249
phone: (800) 345-8777
fax: (310) 719-1478
email: hantoniou@premiereops.com
internet: www.trekamerica.com


Did You Know?

"Killer whales" or orcas are actually quite friendly and often inquisitive about humans. In fact, the group of "resident killer whales" pictured here feeds entirely on fish. Only "transient killer whales" eat marine mammals. No wild killer whale has ever hurt a human being.